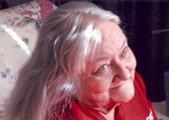 Lanice Rae Heffner
Born: 12/30/1934, Kingston, Utah
Death: 6/22/2011, Moab, Utah
Service: 06/25/2011, 10:00 am, Spanish Valley Mortuary
Interment: 06/25/2011, 11:30 am, , Sunset Memorial Gardens Cemetery
Lanice Rae Heffner left this earth on June 22, 2011 to be with her sons Kenneth Cowley and Larry Hill; Brother Jim Twitchell; Father Lou Twitchell and Mother Thora Twitchell in the Kingdom of Heaven.
Lanice was born in Kingston, Utah on December 30, 1934. Lanice leaves behind children Steven (Cleta) Cowley, Curtis (Stephanie) Hill; Grandchildren Ashley and Hayes Cowley William, and John Garcia, Kenneth, Lanice, Joey, Natasha, Breeanna, Sabrina, and Nathan Hill; Great Grandchildren Kaden and Tatum Hill, Alyssa, Andrea, and Gabby Jones, Lily, William, Annraya, and Jeremiah Garcia; Brothers Martin (Kathy) Twitchell, and Kyle Twitchell; sisters Hulda Mary Webster, Lorraine (Max) Bahr, Carrie (Randy) Stephens, Linda (Ken) Latham, Becky (Dick) Brinda, Willie Lue Payne, and many nieces and nephews. And those, that although were not born to her, she considered her children and grandchildren.
Lanice led a very interesting and challenging life. She loved and accepted everyone she met, taking care of many. Always there to listen and support in any way that she could. Her home was "home" to anyone that needed a home or a shoulder. Her shoulders were very broad as she had many that called her Mom, Grandma, Sister, or Daughter. She will be missed by those that loved her.
Funeral Services were held Saturday June 25, 2011 at 10:00 am at the Spanish Valley Mortuary. A viewing was held Friday June 24, 2011 from 6:00 to 8:00 pm. Interment was at the Sunset Memorial Gardens Cemetery.
Photo Gallery - Click a Picture For Enlarged Slide Show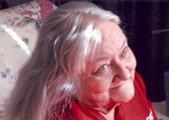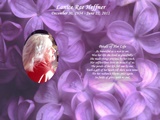 Printable Page Add Picture Add Tribute/Condolence
PLEASE NOTE: Pictures and Tributes will be reviewed before being posted. We will post them ASAP, we appreciate your patience. PLEASE DON'T RESUBMIT.
Scott Bradley
b: 3/14/1968
d: 6/10/2018
Service: Pending
James Fisher
b: 7/14/1958
d: 6/8/2018
Service: 06/26/2018, 10:00 am
M A R C
Larry Jensen
b: 11/27/1939
d: 6/7/2018
Service: Private
James Lee
b: 2/1/1966
d: 6/7/2018
Service: 06/16/2018, 10:00 am
Lee Family Cemetery
Carlyn Buckingham Spinks
b: 4/22/1933
d: 6/5/2018
Service: Pending
Scott Henning
b: 6/28/1984
d: 6/4/2018
Service: 06/22/2018, 5:00 pm
American Legion Hall Delano, Minnesota
John Hagner
b: 12/6/1927
d: 5/31/2018
Service: 06/11/2018, 11:00 am
LDS 400 North Chapel
Bartie Mumford
b: 6/18/1935
d: 5/25/2018
Service: Pending
Lynn Shaffer
b: 7/27/1943
d: 5/23/2018
Service: Private
They Live On
Those we love remain with us
For love itself lives on;
Cherished memories never fade
Because one loved is gone.
Those we love can never be
More than a thought apart;
For as long as there's a memory,
They live on within our heart.