Evelyn Ethel Haseltine
Born: 4/20/1924, Salt Lake City, Utah
Death: 8/15/2011, Moab, Utah
Service: 08/19/2011, 10:30 am, Moab First Baptist Church
Interment: 08/19/2011, 11:30 am, , Sunset Memorial Gardens Cemetery
Evelyn E Haseltine passed away peacefully on August 15th, 2011, surrounded by her family. Evelyn was born April 20th, 1924, to Victor (Vic) and Ethel (Susie) Murphy. She grew up here in Moab, and then moved to San Francisco, Ca., where she met her first husband, Henry Ward. They married in 1945 and had four children; Douglas, Jerald, James, and Sharon. They returned to the Moab area to raise their family, but then sadly Henry passed away in Nov. of 1958. Evelynís love for the lord helped her raise her four children on her own. She then remarried to Fred Haseltine in Dec. of 1969. They also made their home in Moab until Fred passed away in June of 1973. Evelyn had great faith in God and loved music and singing in church, her voice was very beautiful. She always had a heart of great passion for helping others, and was very selfless in her acts. She always put others needs before her own. Evelyn positively impacted many peoples lives and will be sorely missed.
Evelyn was preceeded in death by her parents Vic and Ethel Murphy, 1st husband Henry Ward, 2nd Husband Fred Haseltine, and sister Lorraine Flowers. She is survived by her children Douglas Ward, Jerry and Byrdi Ward, Jim and Velda Ward, and Sharon (Ward) and Richard McElhaney; along with 14 grand children 28 great grandchildren, and 2 great, great grandchildren.
MEMORIAL FUND
There is a memorial fund in honor of Evelyn Haseltine, set up at Zions National Bank, Where if you would like, instead of buying flowers, you can donate money towards a new sound system to be installed at 1st Baptist Church of Moab in honor of Evelyns passion for music. Evelyn was a member of 1st Baptist Church since the early 1950s, where she encouraged and ministerd to many lives with her incredibly beautiful voice.
The viewing, funeral services, and dinner are to take place at 1st Baptist Church of Moab. Located at 420 Mi Vida Dr. Viewing - Thursday, August 18th, 7:00p.m.- 9:00p.m. Funeral services - Friday, August 19th. Starting at 10:30a.m.
Dinner will be held back at 1st Baptist Church after graveside services are concluded.
Photo Gallery - Click a Picture For Enlarged Slide Show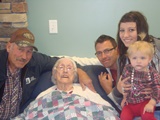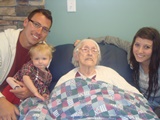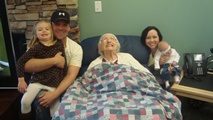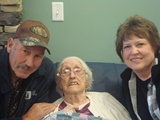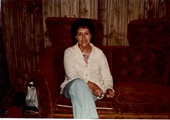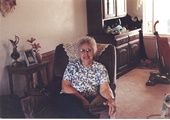 Printable Page Add Picture Add Tribute/Condolence
PLEASE NOTE: Pictures and Tributes will be reviewed before being posted. We will post them ASAP, we appreciate your patience. PLEASE DON'T RESUBMIT.
Sharon Hawkins
b: 5/28/1936
d: 1/21/2018
Service: Pending
Gary Holyoak
b: 6/1/1938
d: 1/19/2018
Service: 01/26/2018, 11:00 am
Moab LDS Stake Center
Aaron White
b: 12/31/1948
d: 1/12/2018
Service: Private
Sanford Randall
b: 10/3/1961
d: 1/7/2018
Service: 01/13/2018, 12:00 pm
Monticello Stake Center
Roy Beeson
b: 3/8/1952
d: 1/5/2018
Service: Private
Cleone Tangren
b: 5/11/1935
d: 1/3/2018
Service: 01/08/2018, 1:00 pm
Spanish Valley Mortuary
Mary Downard
b: 1/2/1930
d: 12/27/2017
Service: 12/30/2017, 2:00 pm
Sunset Memorial Gardens Cemetery
Lloyd Swenson
b: 10/24/1950
d: 12/26/2017
Service: 12/30/2017, 11:00 am
Spanish Valley Mortuary
They Live On
Those we love remain with us
For love itself lives on;
Cherished memories never fade
Because one loved is gone.
Those we love can never be
More than a thought apart;
For as long as there's a memory,
They live on within our heart.