Andy Alden W Anderson
Born: 7/29/1911, Haskew, OK
Death: 9/18/2008, Moab, UT
Service: 09/22/2008, 10:00 am, Spanish Valley Mortuary
Interment: 09/22/2008, 11:30 am, , Sunset Memorial Gardens
Alden Wilmer "Andy" Anderson, 97, passed away Thursday September 18, 2008 at Allen Memorial Hospital extended care.
Andy was born July 29th 1911, 30 miles North of Woodward Oklahoma near Haskew. He was the son of Hilda Kristina Carlsdotter ,born Feb 14th 1871 in Morlaunda Smilan, Kilmar Lan Sweden, and Axel Edward Anderson born Dec 10th 1868 Morlaunda Smilan, Kilmar Lan Sweden. Andy was one of four children born in this union. After the death of Hilda, Axel married Jennie Shriner and they also had four children. Andy only attended school to the 8th grade and a few days into high school at Freedom Oklahoma. He then began working as a farm hand.
Andy met and courted Jessie Ellen Grimes in November of 1913, Jessie was the daughter of Ottie Elden and Hazel May Johnson Grimes. Andy and Jesse were later married on April 6th 1935 in Woodard, Oklahoma with Harold and Lucile Grimes as witnesses. Knowing there was going to be a chivalry party waiting for them at the Grimes home. Andy and Jesse were left in town by the witnesses and picked up later. At the party Andy showed the wedding certificate to his new mother-in-law and he then heard a double barrel shot gun go off and the wedding party was underway. Andy continued working as a farm hand for 5 years in Oklahoma and Kansas. Later he and Jesse traveled to Palisade, Colorado with the Grimes family working for .25 - .35 cents an hour in the peach orchards.
In 1946 Andy and Jesse arrived in Moab, Utah he began working for the Moab Garage and lived in the Bowen Motel for about a year.
Later they purchased the property on locust lane where they lived in a small trailer until 1953 when Andy built a log cabin home. Andy also built the Locust Lane Shop in 1949 where he did mechanic work for many of the townspeople and also for Lile Brothers Trucking.
In 1958 Andy built the first RV motor home, he made a total of four of them, one he kept, and the others he sold. He also made a GO DEVIL (tote Goat) a one wheel scooter, and also a garden tractor that was a two wheel drive unit and later a four wheel unit and a four wheel drive unit that was articulating. Andy made all kinds of shop equipment such as, drill presses, rock saws, special tools and whatever anyone needed made they would show him and Andy would figure out how to build it for them.
Andy was the fire chief for four years, he also formed the Moab Rock Club, the Boat Club ( Andy made his own Boat) and Andy and Bob Baldwin started the now known River Marathon that was held in May from Green River to Moab. He was onr of the founders of the trail which he used for his tote goats to run on now called Slickrock Bike Trail.
Andy later after the death of his first wife, Andy met and married Susanne Clark Mahaffey who was born March 30 1916 in Pittsburgh Pennsylvania. Susanne died June 2nd 1998 in Moab, Utah. Andy knew many people and touched the lives of so many. He was always very helpful and always had a story or invention to share with them. You would see Andy in his later years sitting at City Market just watching or talking with the people he loved so much.
Andy is survived by his nieces, Verla (Jerry ) Swasey Moab, Utah, Patty Mcfarland Gross of Grand Junction, Colorado and Janice Aumiller, Blanding, Utah.; Great Nephews Jerry (Debbie) Swasey Moab, Utah, Mike (Susan)Swasey Farmington, New Mexico, Duane Swasey, Price ,Utah; and a great niece Terri (Art ) Hines, Moab, Utah; Many other great great nieces and nephews. He was also survived by other family and many friends and his extended family at the Allen Memorial Hospital where he has resided for the past seven years Funeral Services will be held Monday September 22, 2008 at The Spanish Valley Mortuary at 10:00 am. Burial will be at the Sunset Memorial Gardens.
Photo Gallery - Click a Picture For Enlarged Slide Show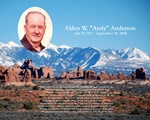 Printable Page Add Picture Add Tribute/Condolence Funeral Program
PLEASE NOTE: Pictures and Tributes will be reviewed before being posted. We will post them ASAP, we appreciate your patience. PLEASE DON'T RESUBMIT.
Ruth Johnson Keller
b: 2/7/1929
d: 4/16/2018
Service: 04/21/2018, 1:00 pm
Myers Mortuary Brigham City
Adonijah Foster
b: 1/18/2016
d: 4/14/2018
Service: 04/22/2018, 11:00 am
Rockland Ranch
Patricia Vidiella
b: 1/21/1963
d: 4/13/2018
Service: Private
Frank Corcione
b: 6/16/1953
d: 4/12/2018
Service: Private
Barbara Louthan Smith
b: 7/13/1939
d: 4/11/2018
Service: 04/21/2018, 12:00 pm
Spanish Valley Mortuary
Wayne Greer
b: 12/11/1931
d: 4/6/2018
Service: Private
David Baker
b: 11/3/1924
d: 4/5/2018
Service: 04/14/2018, 11:00 am
St Francis Episcopal Church
Todd Shannon
b: 1/8/1972
d: 4/5/2018
Service: 04/14/2018, 4:00 pm
Spanish Valley Mortuary
Neil Sutherland
b: 2/21/1968
d: 4/5/2018
Service: 05/18/2018, 1:00 pm
Castle Valley Cemetery
Normandy Rogers
b: 12/18/1982
d: 4/4/2018
Service: Private
Samuel Swindle
b: 2/21/1948
d: 4/3/2018
Service: Private
Brenda Stocks
b: 12/10/1939
d: 4/3/2018
Service: Private
Jackie Garcia
b: 7/17/1947
d: 3/26/2018
Service: 04/04/2018, 11:00 am
Moab LDS 400 North Chapel
They Live On
Those we love remain with us
For love itself lives on;
Cherished memories never fade
Because one loved is gone.
Those we love can never be
More than a thought apart;
For as long as there's a memory,
They live on within our heart.