Annie Jewel Pool
Born: 11/15/1924, Howe, Texas
Death: 9/12/2009, Moab, Utah
Service: 09/16/2009, 11:00 am, Spanish Valley Mortuary
Interment: 09/16/2009, 12:30 pm, , Sunset Memorial Gardens
ANNIE JEWEL BOUNDS POOL passed away on September 12, 2009 at the Allen Memorial Hospital Extended Care Facility. Annie, a nine year resident of the facility, had many friends among the staff and residents. She was born November 15, 1924 in Howe, Grayson county, Texas, the oldest child of Andy V. and Urney Dee Bounds The first of her family to complete high school, she graduated from Sherman High School, Sherman, Texas, class of 1942. She married the love of her life, Sidney Melton Pool, son of Andrew and Myrtle Pool of Denison, Texas on October 20, 1943 in Sherman, Texas.
She spent her life with Sid traveling all over the western states as they raised their family. They settled in Moab, Utah in January of 1961. She was a seamstress by trade and specialized in alterations, offering this to her customers at the Towne House dry cleaners in Moab at which she worked and then later owned in the late 1960's. Annie's devotion, next to her family and her church, the Community Baptist Church, was service to the community. She served on many committees and organizations. She was a member of the Moab Literary Club for over thirty years, serving in every officer ship in the club and awarded runner up for Club Woman of the Year for the state of Utah in 1982 and 1990. Her other civic organizations included Allen Memorial Hospital Auxiliary, League of Women Voters, Democratic Party, Business and Professional Women (BPW Woman of the Year in 1990) and Retired Seniors Volunteers. For many years she taught exercises classes at the Senior Citizens Center and also at the Extended Care. She was an election judge who never missing an election. Her many personal hobbies included knitting, macramé and sewing clothes for her children and grandchildren.
She is survived by two sisters, Mary Harrison of Plano, Texas and Alice Hartman (Richard) of Harrisburg, Pennsylvania, and one brother, Wesley Bounds (Nancy) of Oklahoma; two daughters, Linda Anderson ( Meredith) of Elk Ridge, Utah and Delores Butcher of Moab,Utah; five grandchildren, Mark Moore(Jolene) of Las Vegas, Nevada, Cydney Hymas (Wayne) of Moab, Utah, Nikki Jeffs (Justin) of Price, Utah, Kristi Sandgren (Jacob) of ElkRidge, Utah and Tony Anderson of Bullfrog,Utah and nineteen great-grandchildren.
Annie was proceeded in death by her husband Sidney, her parents Andy and Dee Bounds and three brothers Cliffford, Wilbert and Billie Jo Bounds
Viewing was at 6:00 – 8:00 p.m. on Tuesday, September 15 and services were Wednesday, September 16 at 11:00 a.m. at Spanish Valley Mortuary. Pastor Keith Van Arstdol conducted the services. Internment was in Sunset Memorial Cemetery next to her husband Sidney.
Photo Gallery - Click a Picture For Enlarged Slide Show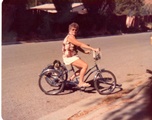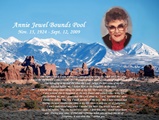 Printable Page Add Picture Add Tribute/Condolence
PLEASE NOTE: Pictures and Tributes will be reviewed before being posted. We will post them ASAP, we appreciate your patience. PLEASE DON'T RESUBMIT.
Sharon Hawkins
b: 5/28/1936
d: 1/21/2018
Service: Pending
Gary Holyoak
b: 6/1/1938
d: 1/19/2018
Service: 01/26/2018, 11:00 am
Moab LDS Stake Center
Aaron White
b: 12/31/1948
d: 1/12/2018
Service: Private
Sanford Randall
b: 10/3/1961
d: 1/7/2018
Service: 01/13/2018, 12:00 pm
Monticello Stake Center
Roy Beeson
b: 3/8/1952
d: 1/5/2018
Service: Private
Cleone Tangren
b: 5/11/1935
d: 1/3/2018
Service: 01/08/2018, 1:00 pm
Spanish Valley Mortuary
Mary Downard
b: 1/2/1930
d: 12/27/2017
Service: 12/30/2017, 2:00 pm
Sunset Memorial Gardens Cemetery
Lloyd Swenson
b: 10/24/1950
d: 12/26/2017
Service: 12/30/2017, 11:00 am
Spanish Valley Mortuary
They Live On
Those we love remain with us
For love itself lives on;
Cherished memories never fade
Because one loved is gone.
Those we love can never be
More than a thought apart;
For as long as there's a memory,
They live on within our heart.