Mary Anne Walker
Born: 8/5/1934, Jackson, Wyoming
Death: 4/13/2010, Moab, Utah
Service: 04/19/2010, 10:00 am, St. Francis Episcopal Church
Interment: 04/19/2010 12:00 pm, , Sunset Memorial Gardens Cemetery
Mary Anne Walker, 1934-2010
Heaven rejoiced as the angels welcomed the soul of long –time Moab resident Mary Anne Walker on April 13, 2010. Born on August 5, 1934 in Jackson, Wyoming to Wallace and Alice Hiatt, Mary Anne lived all over the western United States before moving with her husband and children to Moab in 1972.
Mary Anne loved the outdoors, and Moab area offered plenty of opportunity for her to get out into the nature she loved so much. An active member of the Moab Bird Club, she participated in the annual Christmas Bird Count in the Moab area for many years. Her yard was a haven for birds year-round, as she kept both seed feeders and hummingbird feeders well stocked in their seasons.
She was a devout member of St. Francis Episcopal Church, where she served as First Reader, Vestry secretary, St. Claire's Guild member and secretary and frequent greeter. She gave generously of her time and energy to many church functions throughout the years, and her graceful presence will be sorely missed.
Mary Anne worked at many different locations in Moab through the years, but one of her favorite jobs was head housekeeper at Pack Creek Ranch, where she made many lasting friends. Mary Anne will be remembered for her warm smile, her selfless service to the community, and as a loving wife, mother, grandmother, sister and friend.
She is survived by her husband Hilton, her son Joseph, her daughters Mary and Martha, all of Moab; two sisters Sarah Mondale of Lakeland, FL, and Nancy Russell of Dimondale, MI; two brothers Craig Hiatt of Coeur d'Alene, ID and Robert Hiatt of Clarksville, AR. She was preceded in death by her son James Robert, her sister Elizabeth Ainsley, her brother Wallace , Jr. and her parents.
Funeral services will be held Monday April 19, 2010 at 10:00 am at St. Francis Episcopal Church. A viewing wiil be held Sunday April 18, 2010 from 6:00 to 8:00 pm at the Spanish Valley Mortuary. Interment will be at the Sunset Memorial Gardens Cemetery. The family has asked that donations be made for the Daylight scene stained glass window project at St. Francis Episcopal Church.
Photo Gallery - Click a Picture For Enlarged Slide Show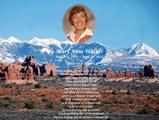 Printable Page Add Picture Add Tribute/Condolence
PLEASE NOTE: Pictures and Tributes will be reviewed before being posted. We will post them ASAP, we appreciate your patience. PLEASE DON'T RESUBMIT.
Sharon Hawkins
b: 5/28/1936
d: 1/21/2018
Service: Pending
Gary Holyoak
b: 6/1/1938
d: 1/19/2018
Service: 01/26/2018, 11:00 am
Moab LDS Stake Center
Aaron White
b: 12/31/1948
d: 1/12/2018
Service: Private
Sanford Randall
b: 10/3/1961
d: 1/7/2018
Service: 01/13/2018, 12:00 pm
Monticello Stake Center
Roy Beeson
b: 3/8/1952
d: 1/5/2018
Service: Private
Cleone Tangren
b: 5/11/1935
d: 1/3/2018
Service: 01/08/2018, 1:00 pm
Spanish Valley Mortuary
Mary Downard
b: 1/2/1930
d: 12/27/2017
Service: 12/30/2017, 2:00 pm
Sunset Memorial Gardens Cemetery
Lloyd Swenson
b: 10/24/1950
d: 12/26/2017
Service: 12/30/2017, 11:00 am
Spanish Valley Mortuary
They Live On
Those we love remain with us
For love itself lives on;
Cherished memories never fade
Because one loved is gone.
Those we love can never be
More than a thought apart;
For as long as there's a memory,
They live on within our heart.