Larry Byam Curtis
Born: 9/19/1952, Berkeley, CA
Death: 6/7/2010, Holladay, Utah
Service: 06/12/2010, 11:00 am, Union Park 5th Ward
Interment: 06/12/2010 12:30 pm, , Midvale Cemetery
Sandy, Utah - Larry Byam Curtis, 57, passed away on Monday, June 7, 2010, at an extended care facility in Holladay. After a long, heart-breaking battle with Alzheimer's disease, Larry is finally at peace, returned to his heavenly home.
Larry was born in Berkeley, CA, on September 19, 1952 to Clarence and Alice Nyland Curtis. Larry grew up and attended high school in CA. Larry later moved to Utah and married the love of his life, Lorrene Taylor Lantis. Together, they had two amazing boys, Randy and Alan, while also caring for Lorrene's wonderful daughter, Sabrina. Larry loved all three children deeply; they were the joy of his life.
Larry attended the U of U to earn his BS in Civil Engineering. Larry's work as a Civil Engineer sent him all over the world, especially involving his innovative efforts to earthquake-proof buildings. Larry also helped prepare Salt Lake City for the 2002 Winter Olympics. Larry loved civil engineering, comparing it to a gigantic puzzle benefiting entire communities.
Larry loved spending time with his family. He enjoyed watching his children participate in sports and spent much of his time coaching them. He taught his children and many others how to snow ski. Larry's love of nature led him to also actively enjoy camping, swimming, and water skiing. Larry loved music and enjoyed playing his guitar to his favorite artists such as The Grateful Dead, Bon Jovi, and Heart.
He is survived by two sons Randy (Quinn) and Alan both of Sandy; a daughter, Sabrina (Robert) Shunkwiler of Orange County, CA; three sisters Linda Harris, Lisa Curtis of CA, Coleen of AZ; 4 grandchildren, and numerous in-laws, nephews, nieces, and cousins.
Larry was preceded in death by his wife Lorrene in 2008, and his parents.
Funeral Services will be held Saturday June 12, 2010 at the Union Park 5th Ward Building 7679 Chad Street, Midvale, at 11:00 am. A viewing will be held from 9:30 am to 10:40 am at the church. Interment will follow at the Midvale City Cemetery.
Larry will be remembered best for his cheerful, loving heart. Larry brought sunshine and a smile to all blessed to know him.
Larry's family would like to offer a special thanks to the many wonderful people who cared for Larry so kindly in his final years of life, especially those at The Neighborhood House, Holladay Healthcare Center and Hospice.
Photo Gallery - Click a Picture For Enlarged Slide Show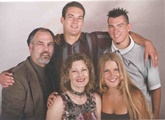 Printable Page Add Picture Add Tribute/Condolence
PLEASE NOTE: Pictures and Tributes will be reviewed before being posted. We will post them ASAP, we appreciate your patience. PLEASE DON'T RESUBMIT.
Ruth Johnson Keller
b: 2/7/1929
d: 4/16/2018
Service: 04/21/2018, 1:00 pm
Myers Mortuary Brigham City
Adonijah Foster
b: 1/18/2016
d: 4/14/2018
Service: 04/22/2018, 11:00 am
Rockland Ranch
Patricia Vidiella
b: 1/21/1963
d: 4/13/2018
Service: Private
Frank Corcione
b: 6/16/1953
d: 4/12/2018
Service: Private
Barbara Louthan Smith
b: 7/13/1939
d: 4/11/2018
Service: 04/21/2018, 12:00 pm
Spanish Valley Mortuary
Wayne Greer
b: 12/11/1931
d: 4/6/2018
Service: Private
David Baker
b: 11/3/1924
d: 4/5/2018
Service: 04/14/2018, 11:00 am
St Francis Episcopal Church
Todd Shannon
b: 1/8/1972
d: 4/5/2018
Service: 04/14/2018, 4:00 pm
Spanish Valley Mortuary
Neil Sutherland
b: 2/21/1968
d: 4/5/2018
Service: 05/18/2018, 1:00 pm
Castle Valley Cemetery
Normandy Rogers
b: 12/18/1982
d: 4/4/2018
Service: Private
Samuel Swindle
b: 2/21/1948
d: 4/3/2018
Service: Private
Brenda Stocks
b: 12/10/1939
d: 4/3/2018
Service: Private
Jackie Garcia
b: 7/17/1947
d: 3/26/2018
Service: 04/04/2018, 11:00 am
Moab LDS 400 North Chapel
They Live On
Those we love remain with us
For love itself lives on;
Cherished memories never fade
Because one loved is gone.
Those we love can never be
More than a thought apart;
For as long as there's a memory,
They live on within our heart.