Cloyce L Cline
Death: 10/10/2010, Moab, Utah

Cloyce Lyle "C L" Cline, 92, passed away on October 10, 2010 at Allen Memorial Hospital.
C.L. was one of five children born to PA and Donea Shropshire Cline. He was born March 26, 1918 in Manes, Missouri. When C.L. was 16 he moved to Buhl, Idaho to work as a ranch hand for is sister Fern. He later moved back to Missouri and in 1941 joined the Navy and served in WWII on the USS Colorado. After his discharge in 1945 he returned to Missouri and then Idaho. While living in Idaho he married Elna Marie Crawford in Elko, Nevada. In 1951 he moved back to Missouri where he worked as a plumber for the civil service until his retirement. He also was a carpenter in Missouri building many of his own homes. After his retirement they moved to Utah in 1978 and then to Moab in 1992.
CL was an avid fisherman, guitar player and he and his wife Elna loved to dance.
He was preceded in death by his wife of 57 years in 2004, and 3 siblings Wallace Cline, Mary Long and Bill Cline.
He is survived by 2 sons Rick Cline of Moab, and Jim Crawford of New Hampshire; a sister Fern Crisp of Idaho; and 3 grandchildren.
At C. L. request cremation has taken place and a graveside service will be held at a late date in Missouri.
Photo Gallery - Click a Picture For Enlarged Slide Show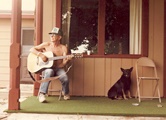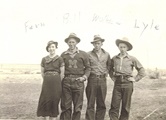 Printable Page Add Picture Add Tribute/Condolence
PLEASE NOTE: Pictures and Tributes will be reviewed before being posted. We will post them ASAP, we appreciate your patience. PLEASE DON'T RESUBMIT.
Jacob Crandall
b: 7/18/1977
d: 8/12/2018
Service: Private
Dorothy Carpenter
b: 3/9/1921
d: 8/7/2018
Service: 08/17/2018, 10:00 am
Community Church
Shirley Bertwell
b: 5/26/1936
d: 8/6/2018
Service: 08/24/2018, 1:00 pm
Spanish Valley Mortuary
Nolan Morse
b: 12/6/1923
d: 7/29/2018
Service: 08/03/2018, 10:00 am
Grand Valley Cemetery
Nancy Ball
b: 6/16/1947
d: 7/29/2018
Service: Pending
Laura Senter
b: 11/8/1936
d: 7/26/2018
Service: 08/29/2018, 11:00 am
Community Church
Samuel Swindle
b: 2/21/1948
d: 4/3/2018
Service: 08/25/2018, 2:00 pm
Palmer Park Colorado Springs, CO
They Live On
Those we love remain with us
For love itself lives on;
Cherished memories never fade
Because one loved is gone.
Those we love can never be
More than a thought apart;
For as long as there's a memory,
They live on within our heart.