Wendall K Roth
Born: 5/24/1925, Rockford, Illinois
Death: 2/4/2011, Moab, Utah
Service: 02/10/2011, 11:00 am, LDS 4th North Chapel
Interment: 02/10/2011, , Sunset Memorial Gardens
Wendall Kay Roth passed away peacefully on February 4, 2011 in Moab, Utah at the age of 85.
Wendall was born May 24, 1925 in Rockford, Illinois to George Fredrick and Gladys Amelia Forbes Roth. He met Mavis Evelyn Norman while on a sleigh ride and they married April 2, 1949. Wendall and Mavis became members of the Church of Jesus Christ of Latter-day Saints in 1958 and after making several trips to Salt Lake City area moved to Sandy in 1967. They resided there until Wendall neared retirement, settling on Moab. He and Mavis were happiest when exploring the many science areas of central and southern Utah.
Wendall remained an active member of the LDS Church throughout his life, and was an example to each of his 17 grandchildren and 32 great-grandchildren.
He is survived by 2 sons Dana Wendall (Robyn) Roth of Sandy, Utah and Mark Andre' of Shakopee, Minnesota; a daughter Jennifer Lee Roth recently of Moab,Utah; a daughter-in-law Laurie Roth of Idaho Falls, Idaho; and a sister Carol (Charles) Barker of Shirland, Illinois.
He was preceded in death by his wife Mavis, a son Jeffery Alan, and a daughter-in-law Laurie Roth.
Funeral services will be held Thursday February 10, 2011 at 11:00 am at the Moab 2nd Ward Chapel located at 475 West 400 North. A viewing will be held February 9, 2011 from 6:00 to 8:00 pm at the Spanish Valley Mortuary 386 North 100 West and one hour prior to the service at the church. Interment will follow at the Sunset Memorial Gardens Cemetery.
Photo Gallery - Click a Picture For Enlarged Slide Show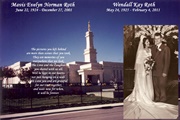 Printable Page Add Picture Add Tribute/Condolence
PLEASE NOTE: Pictures and Tributes will be reviewed before being posted. We will post them ASAP, we appreciate your patience. PLEASE DON'T RESUBMIT.
Linda Canepa
b: 3/14/1940
d: 11/14/2019
Service: Pending
Ina Griswold
b: 12/6/1927
d: 11/3/2019
Service: 11/05/2019, 5:00 pm
Seventh Day Adventist Church 4581 Spanish Valley Drive
Zella Ceniceros
b: 2/8/2002
d: 10/30/2019
Service: 11/09/2019, 11:00 am
Moab LDS Stake Center on Locus Lane
Connie May
b: 4/30/1957
d: 10/30/2019
Service: Private
Dorothy Larrabee
b: 4/7/1927
d: 10/23/2019
Service: 11/05/2019, 11:00 am
400 North Chapel Moab, UT
Lavada Casey
b: 11/3/1912
d: 10/3/2019
Service: 10/14/2019, 11:00 am
Community Church
They Live On
Those we love remain with us
For love itself lives on;
Cherished memories never fade
Because one loved is gone.
Those we love can never be
More than a thought apart;
For as long as there's a memory,
They live on within our heart.