Al Boyd
Born: 5/21/1936, Bonneville, WA
Death: 3/2/2011, Moab, UT
Service: 03/07/2011, 11:00 am, Community Church
Interment: 03/07/2011 12:30 pm, , Sunset Memorial Gardens Cemetery
Al Boyd was born in North Bonneville, Washington in 1936 and lived on a ranch in Carson, Washington near the Columbia River before moving to Tacoma, Washington in 1942. He attended various schools until finally moving to Federal Way, Washington in 1947. He graduated from Federal Way High School in 1954 and attended Pacific Lutheran University for one year before leaving to prospect for uranium in the southwest. After prospecting he worked in Cortez, Colorado and at Telluride for the Forest Service. In 1956 he joined the Air Force and was stationed in Biloxi, Mississippi, Mountain Home AFB, Idaho and at Anderson AFB on Guam which allowed him time to visit Japan. Later he was transferred to RAF Fairford, England for one year. This gave him time to travel to Denmark.
After his military service he worked for a wholesale plumbing named Rosen Supply in Tacoma, Washington for 5 years. In 1965 he went to work for another plumbing wholesaler, Keller Supply for 12 years. During this period of time he took up flying as a hobby. In 1977 with partners Larry Davis and Helmer Glaas, they opened their own wholesale firm named Southwest Supply in Olympia, Washington. In 1987 he sold out his interest. At this point he opened a wrecking yard in Chehalis, Washington with a nephew. He also did lawn work in the Olympia area and worked for Briggs Plumbing Company as an estimator. In 1991 he moved to Moab, Utah to get out of the rain as he put it.
In 1956 he married Gayle Higbee of Edmonds, Washington, who already had a son, Kevin Boyd of Lacey Washington. Sons Mark Boyd of Lacey, Washington, Gregg Boyd of Seattle, Washington and Curtis Boyd of Seattle, Washington were born of this union. Al and Gayle were divorced in 1991.
Upon moving to Moab, Al worked again doing yard work and designing hot water heating systems. He also served on the Grand County Airport Board for 3 years. In 2003 he married Mary E. Mayberry of Moab to whom he often bought roses. He and Mary had 6 wonderful years together and traveled greatly, prior to his illness.
Al had arthritis from the age of 25 but he never complained about it. He knew that someday it would slow him up physically and that he had to find something else to do. That's when he began writing. As of this date he has written 4 books - 'Return to Texas', 'Chief Posey's Run', 'What Happened to Aunt Lily', and 'Chasing the Fox'.
He especially loved the canyon lands of the southwest and hiked the trails as long as he was able. He enjoyed traveling. He biked in Europe, visited Brazil on three occasions, took cruises and enjoyed traveling by air and car.
Funeral Services will be held Monday March 7, 2011 at 11:00 am at the Community Church, 544 MiVida Drive, Moab.Interment will follow at the Sunset Memorial Gardens Cemetery.
Photo Gallery - Click a Picture For Enlarged Slide Show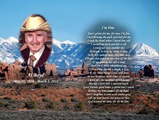 Printable Page Add Picture Add Tribute/Condolence
PLEASE NOTE: Pictures and Tributes will be reviewed before being posted. We will post them ASAP, we appreciate your patience. PLEASE DON'T RESUBMIT.
Marvel Zook
b: 7/5/1930
d: 1/23/2020
Service: Pending
J Raymundo Martinez
b: 11/30/1926
d: 1/19/2020
Service: 01/27/2020, 2:00 pm
Spanish Valley Mortuary
Edward Wade
b: 11/26/1947
d: 1/9/2020
Service: 01/25/2020, 11:00 am
LDS Chapel on 400 North
Izzy Nelson
b: 5/27/1936
d: 1/6/2020
Service: Private
Delma Tangreen
b: 10/10/1934
d: 1/2/2020
Service: Private
They Live On
Those we love remain with us
For love itself lives on;
Cherished memories never fade
Because one loved is gone.
Those we love can never be
More than a thought apart;
For as long as there's a memory,
They live on within our heart.