Fleda Narlene Manson
Born: 9/16/1931, Moab, Utah
Death: 6/14/2011, Moab, Utah
Service: 06/18/2011, 1:00 pm, Locust Lane LDS Chapel
Interment: 2:30 pm, , Grand Valley Cemetery
Fleda Narlene Titus Manson
September 16th, 1931 – June 14th 2001 Narlene passed away at her home on June 14, 2011 surrounded by her family. Narlene was born to Louis Bronson (Bun) and Isyl Faye Robertson Titus on September 16, 1931 in Moab, Utah and lived in the Moab area for most of her life.
She was involved in many community organizations including The Eagles, The Lady of Elks Moab Lodge #2021, The Daughters of the Utah Pioneers, The Daughters of the American Revolution and The American Legion Auxiliary's Unit #54. Narlene was a Boy Scout Leader, a volunteer for the Jeep Posse Search and Rescue of Grand County and a volunteer firefighter in La Sal, Utah.
Narlene had a deep love for Moab and its residents. She was always doing something for someone and trying to help as many people as she could, in any way she could, whether it be cooking big meals or bringing people home to stay. She was always putting herself out there to help with what ever needed to be done.
She held many jobs throughout the years including running The Fern's Café Tavern & Motel. She cooked at several local restaurants including The Westerner Grill, The Ramada and The LaSal Junction Café just to name a few. She was a mail carrier for the U.S. Postal Service for many years, her route covered from LaSal thru Spanish valley. She also traveled with and at times was the relief driver for her husband Homer, a job we know she loved very much.
She was wed to Homer L. Manson on October 21, 1950. Together they had four children. Louis Manson (Pam Manson), Alan Manson, Fleda Koehler (Cal Koehler) and Bobbi Sue Manson. Narlene and Homer were happily married for 47 years before Homers passing in 1997. They have left behind 16 Grand Children 21 Great Grand Children and 1 Great, Great Grand Child. Proof that their love was strong and their legacy will live on in us and our children for many generations to come.
Narlene was preceded in death by her husband Homer Louis Manson, her sister Mary Lou Titus, her parents Faye and Bun Titus, her brother Lonnie, her nephew Lonnie Joe, and her grandson Donavon Sanchez.
Photo Gallery - Click a Picture For Enlarged Slide Show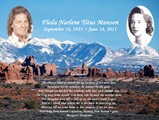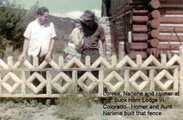 Printable Page Add Picture Add Tribute/Condolence
PLEASE NOTE: Pictures and Tributes will be reviewed before being posted. We will post them ASAP, we appreciate your patience. PLEASE DON'T RESUBMIT.
Eugene Irish
b: 3/17/1926
d: 7/19/2019
Service: 07/29/2019, 11:00 am
Moab LDS Stake Center on Locust Lane
Donna Randall
b: 6/28/1940
d: 7/17/2019
Service: 07/27/2019, 11:00 am
Moab LDS 400 North Chapel
Pansy Lambeth
b: 5/15/1927
d: 7/16/2019
Service: Private
Spencer Connolley
b: 4/15/1996
d: 7/14/2019
Service: Pending
Jay Marshall
b: 4/20/1933
d: 7/14/2019
Service: 07/18/2019, 11:00 am
Moab LDS Stake Center on Locust Lane
Ted Bronson
b: 8/7/1925
d: 7/11/2019
Service: 07/19/2019, 1:00 pm
Monticello Cemetery
Venice Denney
b: 9/6/1929
d: 7/10/2019
Service: 07/15/2019, 10:00 am
Grand Valley Cemetery
Ray Givan
b: 2/1/1937
d: 7/4/2019
Service: 07/09/2019, 11:00 am
St Pius X Catholic Church
Kevin Carroll
b: 7/21/1965
d: 6/30/2019
Service: 07/05/2019
Moab LDS Stake Center on Locust Lane
Ray Townsend
b: 4/16/1931
d: 6/27/2019
Service: 07/06/2019, 10:00 am
Moab First Baptist Church
They Live On
Those we love remain with us
For love itself lives on;
Cherished memories never fade
Because one loved is gone.
Those we love can never be
More than a thought apart;
For as long as there's a memory,
They live on within our heart.