Barbara Louise Walston
Born: 2/14/1931, Spanish Fork, Utah
Death: 6/28/2011, Fillmore, Utah
Viewing: 07/12/2011 7:00 to 9:00 pm
Service: 7/13/2011 11:00:00 AM, LDS 4th North Chapel
Interment: 7/13/2011 1:00:00 PM, Sunset Memorial Gardens Cemetery

Our dearly beloved Mother, Grandmother, wife, and daughter Barbara Louise Clark Walston, 80 yrs old, passed peacefully from this life on June 28, 2011 in Fillmore, Utah due to natural causes.
She was born February 14, 1931 in Spanish Fork, Utah to James Edward Clark and Catherine Eileen Williams Clark. She was the biggest Valentine they ever received.
She graduated from Spanish Fork High in 1948 to go on and attend Brigham Young University. It was while going there that she went on a blind date and met the love of her life, Milton Lee Walston. They were married June 12, 1950 in the Salt Lake City Utah Temple. They settled in Moab in 1962 where they raised their 7 children.
She was a member of The Church of Jesus Christ of Latter-day Saints. She was a member of the Relief Society Singing Mothers and sang the soprano part at General Conference several times. Some of the positions she held were : Young Women's Beehive and Laurels teacher, Relief Society Presidency, Visiting Teaching Coordinator, Emergency Preparedness Coordinator. She was also Moab's Red Cross Emergency Preparedness Coordinator for over 5 years.
She lead a local group against pornography. She succeeded in having a National Company change their policies due to her activism.
She and Milton owned their own business, Walston Enterprises for over 30 years. They offered many products and services—pig farm, garden produce, Christmas trees, water beds, wood stoves, handicrafts, furniture, metal work, and pet care to name a few. They managed the Apache Motel for about 7 years. She learned to make authentic Mexican food to serve in the Apache Cafe. And yes, she met John Wayne. She also was a disc jokey at KURA Radio for a while.
She enjoyed cards and games with her friends and family. She was a generous person and helped those in need and tried to be the answer to their prayers. The extent of her generosity is not even fully known to her children. Barbara and Milton were Foster Parents and loved over 17 foster children.
The joy of her life was her family. She is survived by Stephen (Kathleen) Walston Guthrie, OK ; Bryon (Nita) Walston Moab, UT ; Cathy (Bill) Thompson Fillmore, UT ; Jeff (Tamara) Walston Sprout Springs, VA ; Laralee (Jon) Dalton Okinawa, Japan. She also has 25 grandchildren and 8 great grandchildren.
She believed in the pioneer spirit and taught her children to be thrifty, grow and harvest a garden, sew on a treadle sewing machine, dry and can fruit. One year she preserved 1,500 quarts. Milton build a fruit dryer that dried 3 bushel of fruit at a time. She made wonderful homemade meals with homegrown foods.
She loved arts and crafts. She made original jewelry, ceramics, stationary and cards, painted cutting boards, sewed, water colored, and quilted.
She was proceeded in death by two children, Shana and Pamela Louise; both her parents, James Edward Clark and Catherine Eileen Williams ; only brother, Edward Douglas Clark and husband, Milton Lee Walston.
She will be greatly missed.
A viewing will be held July 12 from 7 to 9 pm at the Spanish Valley Mortuary. Funeral Services will be held July 13, 2011 at 11 am at the LDS church on 475 W. 400 N., Moab, Utah. Interment will be in the Sunset Memorial Cemetery next to loved ones.
Photo Gallery - Click a Picture For Enlarged Slide Show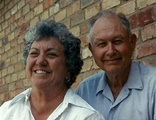 Printable Page Add Picture Add Tribute/Condolence
PLEASE NOTE: Pictures and Tributes will be reviewed before being posted. We will post them ASAP, we appreciate your patience. PLEASE DON'T RESUBMIT.