Cecelia T Keller
Born: 1/2/1927, Philadelphia, Pennsylvania
Death: 7/29/2011, Moab, Utah
Service: Pending

Cecelia T. Keller 1928-2011
Cecelia Theresa Keller (Bad) 83, passed away peacefully on July 29,2011. Cecelia was born on January 2, 1928 in Philadelphia, PA to John Andrew Echost and Cecelia Rose Skowronski. After leaving school Cecelia went to work as a private secretary for a shipping company in New Haven, NJ. She met Edward J. Mallon in 1946 and married him in 1949. And to this union they had 4 children Cynthia, Eddie, Scott, and Mary Jayne.
Because of Ed's work in the missile industry Cecelia was able to travel & live in various places from Cape Cod, MA to California which suited her passion for travel. In 1965 they moved to Moab where the family settled. Cecelia and Ed later divorced but remained very close friends. She met and married Robert J.Keller in 1970. They left Moab in 1979 for St. Croix, USVI where they lived until Bob passed in 1987. Cecelia loved the islands as the ocean was one of her favorite places. While there she worked in a floral shop and made many friends making her time there even more special.
Cecelia then returned to Moab to be near her family in 1989. She then went on to work at Canyonlands Trading Post until the age of 82 when her health began to fail. Working at the Trading Post was one of Mom's greatest joys, where she utilized her gift to gab, but the greatest joy in her life was her children and grandchildren.
Cecelia is preceded in death both of her parents, both of her husbands.
She is survived by her children, Cynthia (Robert) Daye, Moab, UT, Eddie Mallon, Sellingsgrove, PA, Scott (Yvette) Mallon, Moab, UT, Mary (Craig) Nelson, Yuma, AZ.. Her grandchildren Derrick (Destiney) Daye, Brittany (Lowry) Redd, Nick (Am) Nelson, Justin (Michelle) Nelson and Jesse Mallon. As well as her great grandchildren.
Thank you Mom for teaching us that the greatest riches in life are family. At Cecelia's request there will be no services.
Printable Page Add Picture Add Tribute/Condolence
PLEASE NOTE: Pictures and Tributes will be reviewed before being posted. We will post them ASAP, we appreciate your patience. PLEASE DON'T RESUBMIT.

Ronald Robertson
b: 8/24/1934
d: 9/27/2020
Service: 10/02/2020, 11:00 am Moab LDS Stake Center on Locust Lane

Mary Mays
b: 3/5/1939
d: 9/22/2020
Service: Pending


OraLynn Means
b: 7/13/1936
d: 9/21/2020
Service: 09/28/2020, 11:00 am at The LDS Church on 400 North


Guy Thomas
b: 1/10/1950
d: 9/18/2020
Service: Private


Werner Wucherer
b: 1/20/1934
d: 9/10/2020
Service: Private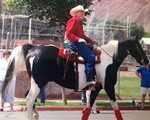 Rodney Dalton
b: 1/18/1934
d: 9/1/2020
Service: 09/08/2020, 10:00 am Grand Valley Cemetery

They Live On
Those we love remain with us
For love itself lives on;
Cherished memories never fade
Because one loved is gone.
Those we love can never be
More than a thought apart;
For as long as there's a memory,
They live on within our heart.