Chad William Thompson
Born: 4/15/1956, Salt Lake City, Utah
Death: 7/31/2011, Moab, Utah
Service: Pending

Chad W. Thompson, 55, of Moab, Utah passed away on July 31, 2011 due to advanced heart disease.
Chad was born April 15, 1956 to William C. Thompson and Vera H. Thompson in Salt Lake City, Utah. He grew up in Southern California where he attended Villa Park High School. Chad moved to Moab, Utah where he lived the life he loved. He also lived in Salt Lake City, Vernal and Colorado, but always found his way back to Moab, the place he loved most.
He ran river raft trips and worked as a carpenter and craftsman. He loved nature, the outdoors, camping and fishing. He loved to laugh and to make others laugh and was also a very spiritual man. He taught himself how to play many instruments, but singing and playing his guitar were his passions. Years ago he played in a group called the Slimedogs.
Chad is survived by his mother, Vera H. Thompson, his sisters, Christine St. Clare (Mark), Julie P. Thompson, Jan Thompson, Jill Ogan (Rob), his grandmother, Madeline P. Thompson, his nieces and nephew, Elizabeth, Katherine, Samantha and Robby, many aunts, uncles, cousins, as well as special longtime friends, Lorelei Ege, Steve Bathemess, Darryl Goddard and other good friends too numerous to mention.
Chad was preceded in death by his father, William C. Thompson, grandparents Claude M. Thompson, Alvin and L. Elvera Hagberg.
Private services were held by the family. Chad was a kind and generous spirit and touched the lives of those that he met. Please honor Chad by saying or doing something nice for a friend or a stranger.
Printable Page Add Picture Add Tribute/Condolence
PLEASE NOTE: Pictures and Tributes will be reviewed before being posted. We will post them ASAP, we appreciate your patience. PLEASE DON'T RESUBMIT.
Mary Mays
b: 3/5/1939
d: 9/22/2020
Service: Pending


OraLynn Means
b: 7/13/1936
d: 9/21/2020
Service: 09/28/2020, 11:00 am at The LDS Church on 400 North


Guy Thomas
b: 1/10/1950
d: 9/18/2020
Service: Private


Werner Wucherer
b: 1/20/1934
d: 9/10/2020
Service: Private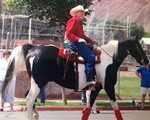 Rodney Dalton
b: 1/18/1934
d: 9/1/2020
Service: 09/08/2020, 10:00 am Grand Valley Cemetery

They Live On
Those we love remain with us
For love itself lives on;
Cherished memories never fade
Because one loved is gone.
Those we love can never be
More than a thought apart;
For as long as there's a memory,
They live on within our heart.