Handley "Hank" William James
Born: 2/28/1986, Grand Junction, Colorado
Death: 7/31/2011, Moab, Utah
Service: 08/06/2011, 10:00 am, Spanish Valley Mortuary

Handley "Hank" W. James 1986 – 2011
Hank passed away July 31, 2011 from injuries received from an automobile accident.
Hank was born February 28, 1986 in Grand Junction to LaDonna Hance and Richard Lee James. Hank grew up in Moab and attended Grand County Schools where he wrestled & raced BMX. He enjoyed art, music & making everybody laugh.
In 2003 he started dating Tiffany Hardin, they were married on June 23rd 2005. A short time later they gave birth to their son Gannon Ray James on March 1st 2006. Their daughter Hadlee Grace James was born on December 8, 2008.
For the last 5 years he has worked for LeGRande Johnson. He enjoyed time with his family, building imports, rock crawlers and motorcycles; camping, fishing and front porch "sittin" and playing his quitar. Hhis most recent enjoyment in life was rock climbing with Brando.
Hank was the kindest soul with the biggest heart. He always had an open ear and a shoulder to lean on for anyone who needed it. He saw good in everything and everyone, and loved his children and family dearly. He will be missed and never forgotten.
Hank is survived by his children Gannon and Hadlee James; his wife Tiffany James; his parents Larry and LaDonna Switzer Hawn; siblings Brando (Jessica) James, Jessie (Corrina Jarman) Coberly Gabriel (Tamara) Olson, and Julian James; grandparents Skip and Rosemary Schafer, and many aunts, uncles, nieces, nephews, cousins, and friends.
Hank was preceded in death by his grandparents William and Lillian Hance, father Richard Lee James, and sister DeLeyna Faye Contreras.
A Memorial Service will be held Saturday August 6, 2011 at 10:00 am at Spanish Valley Mortuary. A potluck luncheon will follow at the Pavillion at Aarchway Inn.
Photo Gallery - Click a Picture For Enlarged Slide Show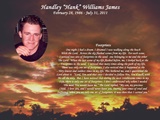 Printable Page Add Picture Add Tribute/Condolence
PLEASE NOTE: Pictures and Tributes will be reviewed before being posted. We will post them ASAP, we appreciate your patience. PLEASE DON'T RESUBMIT.