Jeffrey Warren Thurston
Born: 10/7/1976, Moab, UT
Death: 8/11/2011, Moab, UT
Service: 08/18/2011, 4:00 pm, Spanish Valley Mortuary

Jeffrey Warren Thurston 1976 - 2011
Jeffrey Warren Thurston, 34, went home to be with his Savior on August 10th, 2011.
He was born to Frank and Julianne Thurston on October 7th, 1976 and raised in Moab, Utah. He graduated from Grand County High School in 1993, and after graduation he took a college construction class from Kent Dalton. From him, Jeff discovered that he loved the creativity and physical work of building. During his lifetime Jeff was involved in many construction jobs, but the one of which he was most proud was becoming a crew foreman in the construction of the new bridge over the Colorado River.
In 2002 Jeff married the love of his life Janelle Hansen. They are the parents of three children, Kaidden Nash, Kaitlyn Francis, and Christian Jeffrey. Jeff loved hiking, camping, and spending time with his family. He was a loving husband and father. His wife and children were his pride and joy.
Jeff was preceded in death by his grandfather Sherwood Dickerson, his grandmother Frances Thurston, and his grandmother Ruth Dickerson.
He is survived by his wife Janelle, his sons Kaidden, and Christian; a daughter Kaitlyn, his parents Frank and Julianne Thurston, his brother Gregg (sherry) Thurston, a nephew Austin Thurston, a niece Kaylee Thurston, and his grandfather Warren Thurston.
Jeff's family and friends will remember him as an amazing drummer, a caring friend, a hard worker, a loving son, a wonderful husband, and a great father.
There will be a Remembrance of Life gathering and potluck at the Spanish Valley Mortuary on Thursday August 18, 2011 from 4:00 to 6:00 pm. Please come and share your memories of Jeff.
Printable Page Add Picture Add Tribute/Condolence
PLEASE NOTE: Pictures and Tributes will be reviewed before being posted. We will post them ASAP, we appreciate your patience. PLEASE DON'T RESUBMIT.
Mary Mays
b: 3/5/1939
d: 9/22/2020
Service: Pending


OraLynn Means
b: 7/13/1936
d: 9/21/2020
Service: 09/28/2020, 11:00 am at The LDS Church on 400 North


Guy Thomas
b: 1/10/1950
d: 9/18/2020
Service: Private


Werner Wucherer
b: 1/20/1934
d: 9/10/2020
Service: Private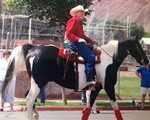 Rodney Dalton
b: 1/18/1934
d: 9/1/2020
Service: 09/08/2020, 10:00 am Grand Valley Cemetery

They Live On
Those we love remain with us
For love itself lives on;
Cherished memories never fade
Because one loved is gone.
Those we love can never be
More than a thought apart;
For as long as there's a memory,
They live on within our heart.