Thomas Albert Stocks
Born: 1/6/1933, Moab, Utah
Death: 9/4/2011, Las Vegas, Nevada
Viewing: 09/09/2011 6:00 to 8:00 pm
Service: 09/10/2011, 1:00 pm, Moab LDS Stake Center
Interment: 09/10/2011, 2:30 pm, Sunset Memorial Gardens

Thomas Albert Stocks, 78, passed away suddenly Sunday, September 4 2011 of a heart attack. Tom was born January 6, 1933, Moab, Utah, and a resident of North Las Vegas since 2005.
Tom dedicated his life to community service: Mayor of Moab, Utah (1982-1997), Moab City Council for four years, President of the Junior Chamber of Commerce, and member of the Grand County Hospital Board.
Tom also served the state of Utah in many roles; serving on the Board of Directors of the League of Cities and Towns and then as President; Member of the Utah Community Impact Board, the Utah Winter Olympic Oversight Committee, and the Utah Governorís Advisory Council.
After becoming empty nesters, Tom and Gay moved to South East Utah, where Tom continued as a community leader, serving as Mayor of LaVerkin, Utah (2002-2005).
Tom was a Korean War Veteran, serving as an Army NCO in Korea at the tail end of the Korean War, continuing on in the Army Reserves to the Utah National Guard. Following the war, Tom used his GI Bill to earn an Accounting Degree.
He moved back to Moab where he was principle owner of Stocks Accounting. Later he and Gay owned and operated the Mayorís House Bed and Breakfast for 9 years, regaling visitors with stories of Moab.
Most recently Tom was an extremely active and beloved resident of Sun City Aliante, North Las Vegas, Nevada where he served on the Architectural Review Committee and was very active in the Veterans Group of Sun City Aliante.
Tom is survived by his loving wife of 56 years Gay, his seven children, Tonja (of Alexandria, VA), NanEtte (of Dallas, TX), Corinne (of Cottonwood, AZ), LoRen (of Moab, UT), Tommy (of Denver CO), Jay (of Moab), Amy (of Moab), 19 grandchildren and 12 great- grandchildren, one brother and seven sisters.
Visitation and Viewing will be held Friday September 9th, 2011 from 6:00-8:00 p.m. at the Spanish Valley Mortuary located at 386 North 100 West Moab, Utah. Saturday September 10th, 2011 there will be a viewing at 12:00 p.m. followed by services at 1:00 p.m. at the Church of Jesus Christ Latter-Day Saints located at 701 Locust Lane Moab, Utah.
Printable Page Add Picture Add Tribute/Condolence
PLEASE NOTE: Pictures and Tributes will be reviewed before being posted. We will post them ASAP, we appreciate your patience. PLEASE DON'T RESUBMIT.
Mary Mays
b: 3/5/1939
d: 9/22/2020
Service: Pending


OraLynn Means
b: 7/13/1936
d: 9/21/2020
Service: 09/28/2020, 11:00 am at The LDS Church on 400 North


Guy Thomas
b: 1/10/1950
d: 9/18/2020
Service: Private


Werner Wucherer
b: 1/20/1934
d: 9/10/2020
Service: Private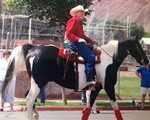 Rodney Dalton
b: 1/18/1934
d: 9/1/2020
Service: 09/08/2020, 10:00 am Grand Valley Cemetery

They Live On
Those we love remain with us
For love itself lives on;
Cherished memories never fade
Because one loved is gone.
Those we love can never be
More than a thought apart;
For as long as there's a memory,
They live on within our heart.