Bebee Marion Doherty
Born: 7/21/1935, Camas, WA
Death: 10/5/2007, Moab, UT
Service: 10/07/2007, 1:00 pm, Spanish Valley Mortuary

The desert winds carried Bebee Marion Doherty's spirit as she departed on October 5th, 2007. She died peacefully at home with family members and hospice care several weeks after suffering a massive stroke. She was 72 years old.
For the past 25 years Bebee and her husband of 50 years, Robert H. Doherty, enjoyed an active semi-retirement in Moab, Utah.
Prior to Moab, Robert and Bebee lived 25 years in Sunshine Canyon, Colorado, eight miles east of Boulder on County road 83 where they raised three children.
Son Mark, 49, and his wife Deborah Read live in Salt Lake City, Utah.
Daughter, Terry Doherty-Kruse, 48, lives with her husband, Dale Kruse, in Hayden, Colorado.
Daughter, Patricia Strosnider, 45, lives with her husband David and boys Tyler and Andrew in Coaldale, Colorado.
Robert and Bebee met each other on the ski slopes of Arapaho Basin while Bebee was a nursing student at St. Joseph's Hospital in Denver and Robert an engineer at the Bureau of Standards in Boulder.
Bebee grew up in Camas, Washington and Portland, Oregon with her brother, Leon, now deceased, and her parents Elton B. (Tony) and Olga Robertson.
She was born on July 21, 1935 in Camas, Washington. Her birth mother, Melonie Robertson, died when Bebee was only one year old, and for a time she was raised at the Old Buhman Home by relatives Roy and Viola Norman as well as her grandfather and grandmother, Carl and Francis Buhman, first generation immigrants.
Photo Gallery - Click a Picture For Enlarged Slide Show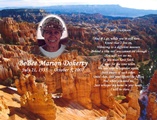 Printable Page Add Picture Add Tribute/Condolence Funeral Program
PLEASE NOTE: Pictures and Tributes will be reviewed before being posted. We will post them ASAP, we appreciate your patience. PLEASE DON'T RESUBMIT.
Bobby Brookshier
b: 5/7/1929
d: 1/21/2019
Service: 01/28/2019, 1:00 pm
Spanish Valley Mortuary
Michaelene Pendleton
b: 5/15/1946
d: 1/21/2019
Service: Private
Jeanne von Zastrow
b: 6/10/1955
d: 1/20/2019
Service: 01/26/2019, 11:00 am
St Francis Episcopal Church
Michael Shumway
b: 6/13/1953
d: 1/17/2019
Service: 01/22/2019, 12:00 pm
Sunset Memorial Gardens Cemetery
W J Tyler Palmer
b: 3/23/1985
d: 1/11/2019
Service: 01/16/2019, 5:00 pm
Sand Flats Recreation Area D Loop #D-18
Kathleen Daniels
b: 10/25/1962
d: 1/11/2019
Service: Private
Gary Walter
b: 2/26/1947
d: 1/9/2019
Service: Private
Lisa Lee Maher
b: 9/18/1930
d: 1/3/2019
Service: Private
Robin Groff
b: 10/24/1952
d: 1/2/2019
Service: 01/12/2019, 1:00 pm
M A R C
Bill Hopkins
b: 3/20/1951
d: 1/2/2019
Service: Private
H Gill Nielsen
b: 10/22/1941
d: 1/1/2019
Service: Private
Norma Nunn
b: 5/9/1933
d: 12/28/2018
Service: 01/05/2019, 11:00 am
Moab Community Church
They Live On
Those we love remain with us
For love itself lives on;
Cherished memories never fade
Because one loved is gone.
Those we love can never be
More than a thought apart;
For as long as there's a memory,
They live on within our heart.