Marion Isabella Trail
Born: 6/30/1920, Effington, Minnesota
Death: 9/21/2011, Moab, Utah
Service: Pending

Marie I. (Marion) Trail, 91, passed away September 21, 2011 at Canyonlands Care Center in Moab, Utah.
Marion was born June 30, 1920 to Archie and Gertrude Becker Benzinger in Effington, Minnesota. She grew up in Minnesota and attended school there . In the early 1940ís she moved with her sisters to Los Angeles, CA to work at the Defense Plants for Douglas Aircraft during WWII. There she met George Trail and they were married in Las Vegas, Nevada in 1945. She worked in the retail business as a clerk and in the office for many years. She moved Durango, CO in 1981 where she was a volunteer at the 55 Plus Center and also was active at Saint Columba Church. Marionís pastimes were walking and hiking, and she also had a great love for dogs. In 2007 she moved to Moab to be closer to her daughter.
She is survived by her daughter Sandra Grandin of Moab; a son Mark Trail, a brother Kenneth Benzinger; 3 sisters Helen Fromme, Grace Hernandez, and Elaine Maskal; 3 grandchildren Keith Lawyer, Dustin Trail, Meadow Trail and 1 great-grandson.
She was preceded in death by her husband, a brother Herbert, and 3 sisters Kay Balow, Delores Sakowicz, and Rosella Balow.
At Marionís request cremation has taken place. No services are planned.
Printable Page Add Picture Add Tribute/Condolence
PLEASE NOTE: Pictures and Tributes will be reviewed before being posted. We will post them ASAP, we appreciate your patience. PLEASE DON'T RESUBMIT.
Mary Mays
b: 3/5/1939
d: 9/22/2020
Service: Pending


OraLynn Means
b: 7/13/1936
d: 9/21/2020
Service: 09/28/2020, 11:00 am at The LDS Church on 400 North


Guy Thomas
b: 1/10/1950
d: 9/18/2020
Service: Private


Werner Wucherer
b: 1/20/1934
d: 9/10/2020
Service: Private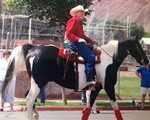 Rodney Dalton
b: 1/18/1934
d: 9/1/2020
Service: 09/08/2020, 10:00 am Grand Valley Cemetery

They Live On
Those we love remain with us
For love itself lives on;
Cherished memories never fade
Because one loved is gone.
Those we love can never be
More than a thought apart;
For as long as there's a memory,
They live on within our heart.