Olive Jane Herrick
Born: 10/22/1922, Lansing, Michigan
Death: 10/25/2011, Moab, Utah
Service: Private

Olive Jane Herrick, 89, peacefully entered into rest on Tuesday, October 25, 2011 at her residence after battling a short illness.
Preferring to be known simply as 'Jane,' she was born to George and Gertrude Randall in Lancing, Michigan on September 22, 1922, and had one older brother, Kenneth Randall. Jane lived in a myriad of places throughout her adolescent life before ending up in Southern California as she entered into adulthood. During World War II, Jane contributed to the war effort as a true testament to "Rosie the Riveter" by bucking rivets in an aircraft factory. In 1944, Jane married her current husband, Ralph Herrick, a career Army First Sergeant, and together they fully experienced the world by travelling and living throughout Europe and the United States, all the while raising their two beautiful children, Ralph 'Pete' Herrick III (deceased), and Andrea Herrick. Later, in 1968, after over 30 years of faithful duty to their country and family, Jane and Ralph retired to Moab, where they have resided ever since. Even in retirement, Jane remained very active by working various roles within the local national parks system, the Utah State higher education system, and finally as an assistant to a successful local sales representative. Jane did not completely retire until she reached her 89th year this past September.
Jane Herrick is survived by her loving husband of 68 years, Ralph Earl Herrick II (Ralph's Sew & Vac repair shop, now retired), daughter Andrea Herrick Lombardo, daughter-in-law Susan Foy Herrick, and four grandchildren, Samuel Herrick, Erick Lombardo, Dustin Lombardo, and Marriah Lombardo.
Private services will be held for Jane Herrick's surviving family at an undisclosed time and location following her cremation. It has been asked that, in lieu of any memorial gifts you wish to provide, please make a donation to the Humane Society of Moab Valley (moabpets.org) in Jane Herrick's memory.
Printable Page Add Picture Add Tribute/Condolence
PLEASE NOTE: Pictures and Tributes will be reviewed before being posted. We will post them ASAP, we appreciate your patience. PLEASE DON'T RESUBMIT.
Mary Mays
b: 3/5/1939
d: 9/22/2020
Service: Pending


OraLynn Means
b: 7/13/1936
d: 9/21/2020
Service: 09/28/2020, 11:00 am at The LDS Church on 400 North


Guy Thomas
b: 1/10/1950
d: 9/18/2020
Service: Private


Werner Wucherer
b: 1/20/1934
d: 9/10/2020
Service: Private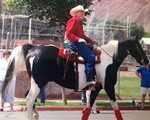 Rodney Dalton
b: 1/18/1934
d: 9/1/2020
Service: 09/08/2020, 10:00 am Grand Valley Cemetery

They Live On
Those we love remain with us
For love itself lives on;
Cherished memories never fade
Because one loved is gone.
Those we love can never be
More than a thought apart;
For as long as there's a memory,
They live on within our heart.