Emmett Lyle Mays
Born: 11/10/1934, Grand Junction, Colorado
Death: 11/13/2011, Puposky, Minnesota
Viewing: 11/30/2011, 1:00 pm
Service: 11/30/2011, 2:00 pm, Grace Lutheran Church
Interment: 11/30/2011, 3:00 pm, Sunset Memorial Gardens Cemetery

Emmett Lyle Mays, 77 of Puposky, MN died Sunday, November 13, 2011 at his home.
Funeral Services will be 2:00 pm Thursday, November 17, 2011 at the Trinity Lutheran Church in Bemidji, MN with Rev. Matthew Wurm and Vicar Matthew Meyer officiating. Visitation will be one hour prior to the service at the church. Funeral Services will also be held at 2:00pm, Wednesday, November 30 at the Grace Lutheran Church in Moab, Utah. Visitation will be one hour prior to the service at the church. Interment will be at the Sunset Memorial Cemetery in Moab, Utah under the direction of the Cease Family Funeral Home of Bemidji and the Spanish Valley Mortuary of Moab.
He was born on November 10, 1934, in Grand Junction, Colorado, the son of Ed and Edith (Hall) Mays. He was raised and educated in various cities on the western slope of Colorado, including Grand Junction and Denver. He married his high school sweetheart, Laura Sykes, and together they raised 3 wonderful children. After 26 years of marriage, Laura passed away. As a young man he began working for Continental Telephone company as a lineman, and over 36 years worked his way up in the company to the position of Utah State Manager. He lived and worked in Show Low, AZ, Tremonton, UT, and Moab, UT. He married Mary (Olander) Mays on December 15, 1979 in St. George, UT, and became a ?second Dad? to her five children. He was a member of the Rotary Club, Toastmasters, Moab City Council, and served many duties in the churches he attended. He and Mary moved to Puposky, MN, in 2006. He enjoyed wood working, square dancing, camping, boating, fishing, mechanics, and construction. He was an animal lover, and loved spending time with friends, and family.
He is survived by :his wife Mary Mays of Puposky, Children,Van (Chris) Mays of Price,UT, Valerie (Blake) Atkins of Bastrop, TX,Kelly (Rachaelle) Mays of Tremonton, UT, Wesley Nelson of Eugene, OR, Gregory Nelson of Moab, UT Jill (Michael) Robinson of Cypress, TX,Toni Mays of Puposky, MN, Kelley Mays of Puposky, MN, Sisters,Lucy (Ken) Hutchins of Fountain, FL, Lorraine (Howard) Dean of Cedar Edge, Colorado, 10 Grandchildren, 12 Great-Grandchildren, several nieces and nephews.
He was preceded in death by his parents, his first wife, sons Jeffery Nelson, Joseph Nelson, brother Harry Mays, sisters Mary Robinson, and Letha Darrow.
In lieu of flowers or food, memorials can be given to the family to help with the family travel to and from Utah.
Printable Page Add Picture Add Tribute/Condolence
PLEASE NOTE: Pictures and Tributes will be reviewed before being posted. We will post them ASAP, we appreciate your patience. PLEASE DON'T RESUBMIT.
Mary Mays
b: 3/5/1939
d: 9/22/2020
Service: Pending


OraLynn Means
b: 7/13/1936
d: 9/21/2020
Service: 09/28/2020, 11:00 am at The LDS Church on 400 North


Guy Thomas
b: 1/10/1950
d: 9/18/2020
Service: Private


Werner Wucherer
b: 1/20/1934
d: 9/10/2020
Service: Private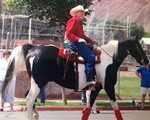 Rodney Dalton
b: 1/18/1934
d: 9/1/2020
Service: 09/08/2020, 10:00 am Grand Valley Cemetery

They Live On
Those we love remain with us
For love itself lives on;
Cherished memories never fade
Because one loved is gone.
Those we love can never be
More than a thought apart;
For as long as there's a memory,
They live on within our heart.