Erma Marie Harmison
Born: 10/20/1919, Provo, Utah
Death: 11/22/2011, Orem, Utah
Viewing: 11/26/2011, 11:00 am
Service: 11/26/2011, 1:00 pm, Sunset Memorial Gardens Cemetery
Interment: 11/26/2011 2:00:00 PM, Sunset Memorial Gardens Cemetery

Erma Marie Thompson Harmison
1919_2011
Erma Marie Harmison, 92, passed away on November 22, 2011 in Orem, Utah. She was born October 20, 1919 to Scott and Gladys Baker Thompson. Her father, Scott, was the Provo Fire Chief and the family lived above the firehouse for many years. When he became Orem City's first fire chief the family moved to Orem, Utah. Erma loved to dance and that is how she met her husband, Blaine Harmison. On August 21, 1954 Leonard Blaine Harmison and Erma Marie Thompson were married in Las Vegas, Nevada at the "Wee Kirk O the Heather" chapel. The marriage was later solemnized in the Manti Temple, May 6, 1988. They lived in Spanish Fork, Utah for many years until they moved to Moab, Utah in 1965.
Erma worked in Moab as a maid at the Travelodge, Ramada Inn, and Bowen motels for many years. She was taught how to grow flowers by her grandparents and she loved to share her roses and plants starts with friends. She spent many hours keeping her yard beautiful. She never drove a car, she walked everywhere she went and loved to talk with whoever would listen.
Erma is survived by her children; Marilyn (Kay) Hayes of Provo, Eva Doran of Spanish Fork, Cheryl (Evan) Jones of Herriman, and Kevin (Ninarose) of Moab; 23 Grandchildren, 17 Great Grandchildren, and 2 Great, Great Grandchildren. She is also survived by her sister Shirlene O'Neill of Provo, by her sister-in-law Donna (Raymond) Bastian of Pleasant Grove, and by nieces and nephews.
She was preceded in death by her parents, 3 sisters, 2 brothers, and her loving husband, Blaine.
A Graveside funeral services were held Saturday, November 26, 2011 at 1:00 pm at Sunset Memorial Garden Cemetery. A viewing was held at Spanish Valley Mortuary on Saturday at 11:00 am.
Printable Page Add Picture Add Tribute/Condolence
PLEASE NOTE: Pictures and Tributes will be reviewed before being posted. We will post them ASAP, we appreciate your patience. PLEASE DON'T RESUBMIT.
Mary Mays
b: 3/5/1939
d: 9/22/2020
Service: Pending


OraLynn Means
b: 7/13/1936
d: 9/21/2020
Service: 09/28/2020, 11:00 am at The LDS Church on 400 North


Guy Thomas
b: 1/10/1950
d: 9/18/2020
Service: Private


Werner Wucherer
b: 1/20/1934
d: 9/10/2020
Service: Private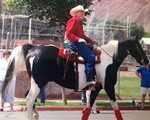 Rodney Dalton
b: 1/18/1934
d: 9/1/2020
Service: 09/08/2020, 10:00 am Grand Valley Cemetery

They Live On
Those we love remain with us
For love itself lives on;
Cherished memories never fade
Because one loved is gone.
Those we love can never be
More than a thought apart;
For as long as there's a memory,
They live on within our heart.