Helen Jo Youngblood
Born: 10/27/1936, Moab, Utah
Death: 11/29/2011, Moab, Utah
Viewing: 12/02/2011 6:00 to 8:00 pm
Service: 12/03/2011, 2:00 pm, Moab LDS 1st Ward Chapel
Interment: 12/03/2011, 3:30 pm, Grand Valley Cemetery

Our Beloved mother Helen Jo Youngblood left this world, the morning of November 29, 2011, to pass through the veil and rejoin her family in heaven.
Helen Jo was born to Jack Clifton Beeson and Helen Murphy Beeson on her brother J.C.'s 3rd birthday October 27, 1936 in Moab, Utah. She was the only sister among four brothers: J.C., Mark, Lloyd Lee and Ted Beeson. Her brother Lloyd died as a young lad of eight.
Helen Jo enjoyed her childhood in Moab, surrounded by red rocks, numerous cousins and family. Helen Jo married Dale Henry Holyoak on August 22, 1953 in a double ceremony. To this union was born five beautiful daughters: Daleine Jo, Lorette Vee, Riata Lee, Tonya Kim, and Rickelle Jaye. Dale and Helen Jo later divorced.
Helen Jo married Dale Youngblood on Sept. 11, 1993 in Moab, Utah and added 5 step children to her family. Mother loved being surrounded by her family and opened her heart and home to numerous nieces, nephews and friends.
Helen Jo valued education both formal and informal. She earned her high school diploma and went on to an Associates Degree after her children were born. She enjoyed studying history and autobiographies and loved reading books and crossword puzzles.
Helen Jo and Dale Youngblood loved to travel and enjoyed visiting children and grandchildren around the states. They also enjoyed the outdoors, four wheeling, walking through the hills, rock hunting and metal detecting to find lots of treasures. She loved taking her grandkids climbing the red rocks up behind her house.
Helen Jo was preceded in death by her grandparents, parents, her brother Lloyd Lee, her nephew Lloyd Guy Beeson and her husband Dale Youngblood.
Helen Jo is survived by the father of her daughters, Dale Holyoak, her girls: Daleine (Tony) Martin, Lorette "Yordy" Eastwood, Riata Lee Ganino, Tonya Kim (RD) Blackburn and Rickelle Jaye (Clemente) Gomez. Stepchildren: David (Nancy) Youngblood, Deborah Bublitz, Don (Donna) Youngblood, Terri (Dan) Webb, and Lea (Jerry) Smith. She is also survived by twenty five grandchildren, eighteen great grandchildren with another one on the way, brothers; J.C. (Jo) Beeson, Mark (Edith) Beeson, Ted (Eula) Beeson and numerous nieces and nephews. She also leaves behind her faithful companion Zella.
Our beloved mother left us a legacy of love and strength. She will be greatly missed by all who knew her.
Service to be held on Saturday, December 3, 2011 at 2:00 p.m. at the LDS Church, 475 West 4th North, Moab. A viewing will be held at Spanish Valley Mortuary on Friday, December 2, 2011 from 6:00 p.m. to 8:00 p.m. and from 1:00 p.m. to 2:00 p.m. on Saturday at the LDS Church.
Printable Page Add Picture Add Tribute/Condolence
PLEASE NOTE: Pictures and Tributes will be reviewed before being posted. We will post them ASAP, we appreciate your patience. PLEASE DON'T RESUBMIT.

Ronald Robertson
b: 8/24/1934
d: 9/27/2020
Service: 10/02/2020, 11:00 am Moab LDS Stake Center on Locust Lane

Mary Mays
b: 3/5/1939
d: 9/22/2020
Service: Pending


OraLynn Means
b: 7/13/1936
d: 9/21/2020
Service: 09/28/2020, 11:00 am at The LDS Church on 400 North


Guy Thomas
b: 1/10/1950
d: 9/18/2020
Service: Private


Werner Wucherer
b: 1/20/1934
d: 9/10/2020
Service: Private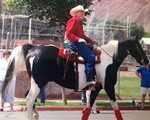 Rodney Dalton
b: 1/18/1934
d: 9/1/2020
Service: 09/08/2020, 10:00 am Grand Valley Cemetery

They Live On
Those we love remain with us
For love itself lives on;
Cherished memories never fade
Because one loved is gone.
Those we love can never be
More than a thought apart;
For as long as there's a memory,
They live on within our heart.