Donald Alex Lusko
Born: 7/30/1931, Detroit, Michigan
Death: 2/10/2012, Hanksville, Utah
Service: 02/13/2012, 1:00 pm, Hanksville LDS Chapel
Interment: Fairview Ranch Cemetery

Our dear husband, father, grandfather, brother, and uncle Donald Alex Lusko peacefully passed on the morning of February 10, 2012 after a 17-year battle with cancer.
Donald was born on July 30, 1931 in Detroit, Wayne, Michigan to Michael and Julia Durkoth Lusko who came to find a better life in the United States from their home in Austro-Hungarian Empire.
Don served in the United States Army from 1952-1955 as a part of the occupation Army in Germany. He was a radar and communications specialist who ran the howitzer radar targeting systems that kept the peace of the early cold war along Czech boarder.
Upon his return he ventured from Michigan to Utah where he prospected for Uranium, worked on an oilrig, and installed cable TV systems in Price, UT. Here he found a treasure, his wife to be Sharon Ruth Robison, they were married May 14, 1959, a union of 52 years. They were married for time and all eternity January 4, 2012 in Monticello, Utah Temple.
In 1959 Don returned to the field he loved electronics. His career took him to many places, Redstone Arsenal in Huntsville, AL, Cambridge Ohio, Ft. Huachuca, AZ, Oklahoma City, OK, Santa Monica, CA Green river, UT, and Las Cruces, NM. He worked on firing and guidance systems for the Atlas, Minuet Man, Athena, Pershing and Loki missiles. He taught classes in electronics which he truly enjoyed. Don spent 8 years as head of the radar and communications division at the Green River Launch Complex of WSMR, calibrated flight guidance systems for the FAA at LAX in Los Angeles and was head of personnel at White Sands Missile Range.
In 1975 he returned to Utah and took over operation of the Fairview Ranch from his father-in-law.
Don is survived by the love of his life, Sharon, of Fairview Ranch; his children Julia Celestine (Dale) Sellers of Hanksville, UT, and Donald Guy (Saleta) Lusko of Fairview Ranch; Grandchildren, Ardeen Sellers, Chelsea (Jordon) Gillespie, Alexis Sellers, Ethan Sellers, Evan Sellers, Rebekah Sellers, Alex Lusko, Alysia Lusko, and Shawn Lusko; Siblings George Lusko of MI, Frank Lusko, Renee Ebdon, Emil (Adele) Lusko all of AZ.
He was preceded in death by his parents, Michael, and Julia Lusko, and siblings Mike Lusko, John Lusko, Joseph (Red) Lusko, and Anna Lusko.
A family prayer and graveside service were held February 10, 2012. Grandson Arden Emil Sellers offered the family prayer. Military honors were provided by Spec. Arden Sellers of the 19th Special Forces Group and 1SG Dale J. Sellers (Retired). Interment was in the Fairview Ranch Estate Cemetery.
A memorial service took place February 13, 2012 at the Hanksville LDS Church, in Hanksville, UT.
The family wish to sincerely thank all who gave such loving service in so many ways during this difficult time.
Printable Page Add Picture Add Tribute/Condolence
PLEASE NOTE: Pictures and Tributes will be reviewed before being posted. We will post them ASAP, we appreciate your patience. PLEASE DON'T RESUBMIT.
Mary Mays
b: 3/5/1939
d: 9/22/2020
Service: Pending


OraLynn Means
b: 7/13/1936
d: 9/21/2020
Service: 09/28/2020, 11:00 am at The LDS Church on 400 North


Guy Thomas
b: 1/10/1950
d: 9/18/2020
Service: Private


Werner Wucherer
b: 1/20/1934
d: 9/10/2020
Service: Private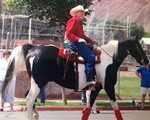 Rodney Dalton
b: 1/18/1934
d: 9/1/2020
Service: 09/08/2020, 10:00 am Grand Valley Cemetery

They Live On
Those we love remain with us
For love itself lives on;
Cherished memories never fade
Because one loved is gone.
Those we love can never be
More than a thought apart;
For as long as there's a memory,
They live on within our heart.