Sheila Ann Maxfield
Born: 8/18/1946, Price, Utah
Death: 11/12/2007, Moab, Utah
Service: 11/17/2007, 11:00 am, Moab LDS 1st Ward
Interment: 11/17/2007 at 3:00 pm, , Hanksville Cemetery
Moab –Sheila Ann Maxfield, 61, passed away Nov. 12, 2007 at the Allen Memorial Hospital surround by family and friends.
Sheila was born August 18, 1946 in Price, Utah to Shannon and Dorothea O'Neil Swink. The family lived for a time in Washington State and later moved to Moab where she grew up. She married Stanley Leon Maxfield in 1966, they later divorced. She worked as a secretary for Atlas Mineral Company and later as a medical transcriptionist.
Sheila was an avid reader, a Red Hatter, and loved to crochet, camping, but her greatest love was her family and she lived for her grandchildren.
She is survived by her daughters Tamara (Danny) Caviness, Rachel (Mike Cresto) Maxfield, both of Moab; brothers Howard Swink of Wyoming, Kerry Swink of Moab; and 3 grandchildren Kiera Garber, Jacob Garber, and Rori Cresto all of Moab.
She was preceded in death by her parents, a brother Donald, and a daughter Brenda Maxfield.
Funeral Service will be held Saturday November 17, 2007 at 11:00 AM at the Moab LDS 1st Ward Building 475 West 400 North Moab. A viewing will be held Friday November 16 from 6:00 to 8:00 PM at the Spanish Valley Mortuary and Saturday at 10:00 AM at the church. Interment will be at the Hanksville Cemetery at 3:00 on Saturday. She was a loving mother, grandmother, sister, aunt and friend and will be greatly missed. In lieu of flowers donations can be made to help the family with funeral expenses.
Photo Gallery - Click a Picture For Enlarged Slide Show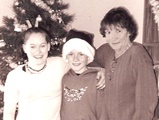 Printable Page Add Picture Add Tribute/Condolence Funeral Program
PLEASE NOTE: Pictures and Tributes will be reviewed before being posted. We will post them ASAP, we appreciate your patience. PLEASE DON'T RESUBMIT.
Michael Krause
b: 7/3/1955
d: 2/12/2020
Service: Private
Gerald Swasey
b: 9/1/1937
d: 1/27/2020
Service: 02/01/2020, 12:00 pm
Sunset Memorial Gardens Cemetery
Marvel Zook
b: 7/5/1930
d: 1/23/2020
Service: 01/28/2020, 11:00 am
Community Church
Donald Monniere
b: 3/9/1926
d: 1/23/2020
Service: 01/29/2020, 1:00 pm
Spanish Valley Mortuary
They Live On
Those we love remain with us
For love itself lives on;
Cherished memories never fade
Because one loved is gone.
Those we love can never be
More than a thought apart;
For as long as there's a memory,
They live on within our heart.