Peter Samuel Doles
Born: 5/26/1943, Prescott, AZ
Death: 2/25/2012, Moab, UT
Service: 02/29/2012, 2:00 pm, Doles Family Cemetery
Interment: 02/29/2012, 2:30 pm, Doles Family Cemetery Castleton, UT

Pete Doles passed away February 25th in Moab Utah. Born Peter Samuel Doles on May 26, 1943, in Tucson, Arizona, to Jerry and Alice Cuthbert Doles. Pete spent his early years on several ranches south of Tucson, AZ. Leaving southern Arizona, his family purchased a ranch in Peeple's Valley, AZ where Pete spent much of his growing years. While living in Peeple's Valley his family bought property to open a marina on Lake Havasu, during this time his family learned of a beautiful place for sale in Castleton, Utah. The marina idea was abandoned to move Castleton in the late fifties. Prior to graduating from Grand County High in 1962, Pete started running the Buck Kirk ranch along the river that was purchased by his family. Pete married Margaret Boulden in 1965 and to this marriage were two children Petenia and Kelly, they later divorced. They ran a successful ranch operation and Pete was proud of his achievements. Pete moved to Las Vegas, Nevada in 1977 where he built and installed wrought iron works. He returned to Moab in 1981 running equipment and working in the oilfield for Starretts, Boulden Contracting and JBCO. In 1986 he decided to take a chance and purchased the former McDonald's Ice Company. Pete became "the ice man" and grew the ice business along with the expanding tourism of Moab. He operated Doles Ice until 2007 when his health would no longer permit. He married Debbie Ricks in 1989, and young Angie came into his life. Pete and Debbie later divorced. Pete was an avid reader and had many interests, later taking up scroll woodworking when he wasn't able to be active. He had a desire to always be learning something new.
Pete is survived by children Petenia (Todd) Pfnister and two granddaughters, Kelly (Tomoko) Doles and two granddaughters and step daughter Angie Romero and four grandkids.
Graveside services were held at the Doles family Cemetery in Castleton Utah, on February 29th.
Printable Page Add Picture Add Tribute/Condolence
PLEASE NOTE: Pictures and Tributes will be reviewed before being posted. We will post them ASAP, we appreciate your patience. PLEASE DON'T RESUBMIT.
Mary Mays
b: 3/5/1939
d: 9/22/2020
Service: Pending


OraLynn Means
b: 7/13/1936
d: 9/21/2020
Service: 09/28/2020, 11:00 am at The LDS Church on 400 North


Guy Thomas
b: 1/10/1950
d: 9/18/2020
Service: Private


Werner Wucherer
b: 1/20/1934
d: 9/10/2020
Service: Private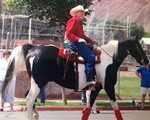 Rodney Dalton
b: 1/18/1934
d: 9/1/2020
Service: 09/08/2020, 10:00 am Grand Valley Cemetery

They Live On
Those we love remain with us
For love itself lives on;
Cherished memories never fade
Because one loved is gone.
Those we love can never be
More than a thought apart;
For as long as there's a memory,
They live on within our heart.