Beatrice G. Luckinbill
Born: 11/15/1919, Abiquiu, NM
Death: 12/3/2007, Moab, UT
Viewing: 12/05/2007, 7:00 pm @ St. Pius X Catholic Church
Service: 12/6/2007,10:00am, St. Pius X Catholic Church
Interment: 12/6/2007 11:30:00 AM, Grand Valley Cemetery

Beloved long time Moab resident Beatrice G. Luckinbill, 88, passed away peacefully early Monday, December 3, 2007 at the Allen Memorial Hospital extended care facility.
Bea was born on November 15, 1919 in Abiquiu, NM, to Eulemia and Pablo Garcia. In 1921 her mother brought her and her older sister Rosalie to reside in Castleton, Utah during the summer and would travel by wagon into Moab to attend school. She graduated from Grand County High School in 1938. Bea met and married Herbert Bertram Montanye in 1939; they later divorced. She received her LPN nursing degree from Salt Lake Vocational School in 1954. She spent many years in the nursing profession in the Salt Lake and Moab areas. In 1960 she met and married Logan "Lucky" Luckinbill.
She is survived by children Vivian Montanye of Abiquiu, NM, Ross Montanye of Phoenix, AZ, Pamela (Edward) Garcia of Helper, UT, Judith (Frank) Wilson of Mesquite, NV, David (MaryLu) Wheeler of Omaha, NE,Mary (Danny) Key of Moab; 15 grandchildren, 21 great grandchildren, 7 great-great grandchildren and great nieces and nephew.
Bea was preceded in death by her husband, mother and father, sisters (Genieve Marshall and Rosalie Robertson), brother (Benito Vigil), niece Juanita (Honey) Blackburn, granddaughter (Yvette Marie Sanfelice), great grandson (Treavor Nielson) and many, many friends.
During her active years she was a member of the Valley Voices, devout Catholic, Alter society member and St. Pius Women of the Year. She enjoyed singing, gardening, crocheting, reading, making friends, four wheeling, picnicking, walking and M&M?s.
Vigil and viewing will be held Wednesday, Dec 5th, 7pm at St. Pius X Catholic Church. Funeral Mass will be held Thursday, Dec 6th at 10 a.m. at St. Pius X Catholic Church. Interment will be at Grand Valley Cemetery, Moab, Utah.
In lieu of flowers donations may be made to Allen Memorial Hospital Extended Care Facility Recreational Therapy Fund or the St. Pius X Catholic Church Restoration in memory of Bea.
Bea's family wishes to extend their heart felt thanks and appreciation to the wonderful and loving care givers of AMH Extended Care Facility and all Allen Memorial Hospital personnel. You made her past nine years a loving stay.
Photo Gallery - Click a Picture For Enlarged Slide Show




Printable Page Add Picture Add Tribute/Condolence Funeral Program
PLEASE NOTE: Pictures and Tributes will be reviewed before being posted. We will post them ASAP, we appreciate your patience. PLEASE DON'T RESUBMIT.
Mary Mays
b: 3/5/1939
d: 9/22/2020
Service: Pending


OraLynn Means
b: 7/13/1936
d: 9/21/2020
Service: 09/28/2020, 11:00 am at The LDS Church on 400 North


Guy Thomas
b: 1/10/1950
d: 9/18/2020
Service: Private


Werner Wucherer
b: 1/20/1934
d: 9/10/2020
Service: Private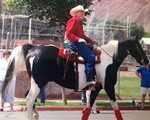 Rodney Dalton
b: 1/18/1934
d: 9/1/2020
Service: 09/08/2020, 10:00 am Grand Valley Cemetery

They Live On
Those we love remain with us
For love itself lives on;
Cherished memories never fade
Because one loved is gone.
Those we love can never be
More than a thought apart;
For as long as there's a memory,
They live on within our heart.