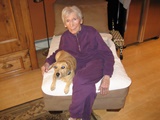 Jean Ehmer
Born: 1/6/1922, Greenpoint, NY
Death: 12/3/2007, Moab, UT
Service: No Services

Jean Ehmer passed away Dec.3, 2007 in Moab, Utah surrounded by family and friends.
Jean was born January 6, 1922 in Green Point, New York to Catherine and Charles Allen Mercer. Jean had a voice like an angel and sung in the choir for the Church of the Ascension in Greenpoint, New York. She was employed at Lord Electric Co. in New York, where she met her future husband Raymond J. Ehmer. Jean left her career to raise a family and lived the majority of her life in Uniondale, NY.
She was an active member of St. Georges Episcopal Church in Hempstead, NY until 2000 when she left her home in Ny to move to Moab, Utah to live with her son Thomas and his partner Kym. She went through hip and knee replacement surgeries at age 78 and was an inspiration to everyone see would see on her daily walks around the neighborhood.
Jean is survived by a sister Helen Webber of Tampa, FL; 2 sons Thomas (Kym Packard) Ehmer of Moab, UT, Raymond (Michelle) Ehmer of Houston, TX; 2 grandsons Matthew Ehmer New York City, NY, Gregory Ehmer Denver, CO; a daughter-in-law Carol Ehmer of Houston, TX; and a special friend Nancy Chartier of Park City, UT
She was preceded in death by her parents, sister Catherine, a son Donald, and husband Raymond.
At Jeanís request cremation has taken place in Moab, UT with interment with her husband and son to take place at a later date.
Donationís in Jeanís memory can be made to St. Georgeís Episcopal Church in Hempstead, NY
Jeanís family wishes to extend their heart felt thanks and appreciation to all Allen Memorial Hospital personnel, Dr. Pat Scherer, Dr. Jim Kempa, Dr. Steven Rouzer for your loving care. Hugs to Georgia Russell and Darcie Miller, you made the final good-bye ever so sweet.
Photo Gallery - Click a Picture For Enlarged Slide Show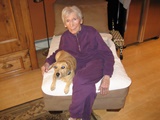 Printable Page Add Picture Add Tribute/Condolence
PLEASE NOTE: Pictures and Tributes will be reviewed before being posted. We will post them ASAP, we appreciate your patience. PLEASE DON'T RESUBMIT.