J R Scott
Born: 1/4/1942, Potteau, OK
Death: 4/24/2012, Moab, Utah
Service: 04/28/2012, 11:00 am, Spanish Valley Mortuary
Interment: 4/28/2012, Grand Valley Cemetery

J.R. Scott passed away April 24, 2012, J.R. was born to Dale & Susie Scott in Poteau, OK on Jan. 4th, 1942. Proceeded in death by father Dale and son J.D. (Jake). Survived by his wife, Sharon, nee Goodspeed of Moab, UT, his mother Susie of Price, UT, son John (Brenda) of Ballwin, MO and three grandchildren.
Memorial service at Spanish Valley Mortuary in Moab, UT on Saturday, April 28th 2012 at 11:00 AM.
Cards can be sent to the Spanish Valley Mortuary and in Lieu of flowers, donations can be made to the Youth Garden Project at 530 South 400 East, Moab, UT 84532.
Printable Page Add Picture Add Tribute/Condolence
PLEASE NOTE: Pictures and Tributes will be reviewed before being posted. We will post them ASAP, we appreciate your patience. PLEASE DON'T RESUBMIT.

Ronald Robertson
b: 8/24/1934
d: 9/27/2020
Service: 10/02/2020, 11:00 am Moab LDS Stake Center on Locust Lane

Mary Mays
b: 3/5/1939
d: 9/22/2020
Service: Pending


OraLynn Means
b: 7/13/1936
d: 9/21/2020
Service: 09/28/2020, 11:00 am at The LDS Church on 400 North


Guy Thomas
b: 1/10/1950
d: 9/18/2020
Service: Private


Werner Wucherer
b: 1/20/1934
d: 9/10/2020
Service: Private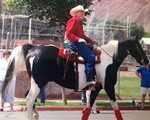 Rodney Dalton
b: 1/18/1934
d: 9/1/2020
Service: 09/08/2020, 10:00 am Grand Valley Cemetery

They Live On
Those we love remain with us
For love itself lives on;
Cherished memories never fade
Because one loved is gone.
Those we love can never be
More than a thought apart;
For as long as there's a memory,
They live on within our heart.