Gary L Russell
Born: 5/8/1963, Glenwood Springs, CO
Death: 5/19/2012, Moab, UT
Service: 05/29/2012, 11:00 am, Sunset Memorial Gardens Cemetery
Interment: Sunset Memorial Gardens Cemetery

Gary Lynn Russell, 49,passed away May 19, 2012 from injuries to an automobile accident in Moab, Utah.
Gary was born in Glenwood Springs, Colorado May 8, 1963 to Betty Jean(Taylor, Beck) and Howard Russell.
Gary grew up in Moab, Utah, where he was very active in sports, in 1981 at the age of 18 Gary was involved in a head on collision and was in a coma for 3 months. Gary spent another 3 months in therapy and never fully recovered.
Gary married Tamara Lish in 1990,but they separated in 1992.
Gary is survived by his two daughters Sheena Lish, and Iris Lish on Nashville, Tennessee, 2 sisters and 2 brothers Sharon Russell of San Francisco, CA, Bruce, Marilyn, and Ron Beck of Moab, Utah 2 nephews, and 2 nieces, Dylan Beck, Arielle Beck, Amanda Beck, and Thomas Beck all of Moab.
A graveside service will be held Tuesday May 29, 2012 at 11:00 am at the Sunset Memorial Gardens Cemetery.
Printable Page Add Picture Add Tribute/Condolence
PLEASE NOTE: Pictures and Tributes will be reviewed before being posted. We will post them ASAP, we appreciate your patience. PLEASE DON'T RESUBMIT.
Mary Mays
b: 3/5/1939
d: 9/22/2020
Service: Pending


OraLynn Means
b: 7/13/1936
d: 9/21/2020
Service: 09/28/2020, 11:00 am at The LDS Church on 400 North


Guy Thomas
b: 1/10/1950
d: 9/18/2020
Service: Private


Werner Wucherer
b: 1/20/1934
d: 9/10/2020
Service: Private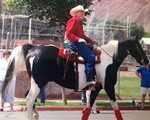 Rodney Dalton
b: 1/18/1934
d: 9/1/2020
Service: 09/08/2020, 10:00 am Grand Valley Cemetery

They Live On
Those we love remain with us
For love itself lives on;
Cherished memories never fade
Because one loved is gone.
Those we love can never be
More than a thought apart;
For as long as there's a memory,
They live on within our heart.