Lucian Garth Tangren
Born: 7/26/1921, Moab,UT
Death: 7/26/2012, Moab, UT
Viewing: 08/02/2012, 6:00 to 8:00 pm, Spaanish Valley Mortuary
Service: 08/03/2012, 2;00 pm, Moab LDS Stake Center
Interment: 8/3/2012, Grand Valley Cemetery

Lucian Garth Tangren, 91, passed away Thursday July 26, 2012. Garth was born to Lucian and Ethelinda Henrie Tangren July 26, 1921, in Moab, Utah. He attended school in Moab, graduating from Grand County High School. He entered the Navy and served a tour during World War II. He worked at Garrett Freightliner, at Atlas Minerals, and drove school bus fro Grand County for 25 years, and had many other jobs in the county. Garth loved raising livestock, pigs, and pigeons. He spent some of his younger years herding sheep and ran cows for the family. One of his favorite things to do was go for his daily cup of coffee, in the early years at the Westerner Grill and the later years at his home away from home the Moab Diner. He married June Elaine House in 1948 they remained together for 24 years. They had 4 children Julia Shepardson, Shannon Shephardson, Shane, and Shauna. He is survived by his life long companion of 38 years Alice Marie Byrnes; 3 children Julia Shepardson, Shane Tangren, Shauna (Kenny) Jones all of Moab; 4 step children Verd (Kathy) Byrnes of La Sal, UT, Victor (Debbie) Byrnes of Mukilteo, WA, Rob (Shannon) Byrnes of Centerville, UT, and Merry Bennett of Moab; 4 brothers Clair Tangren, Karl (Joylyn) Tangren both of Moab, Richard "Bud" (LaKoma) Tangren of Las Vegas, Edward (Cleone) Tangren of Provo; a sister Norma Lynn Williams of Arizona; 17 grandchildren, 28 great-grandchildren, 4 great-great-grandchildren. He was preceded in death by his father Lucian Tangren, mother Ethelinda Henrie Bailey, 2 sisters Imogene Praetor and Marie Creviston Crandall, 2 brothers Robert "Bob" Tangren, Henry "Hugh" Tangren, and daughter Shannon Shepardson, and a son-in-law Vern Shepardson. Funeral Services will be held Friday August 3, 2012 at 2 :00 pm at the Moab LDS Stake Center at 701 Locust Lane. A viewing will be held Thursday August 2, 2012 from 6:00 to 8:00 pm at the Spanish Valley Mortuary and one hour prior to service at the church. Interment will follow at the Grand Valley Cemetery.
Printable Page Add Picture Add Tribute/Condolence
PLEASE NOTE: Pictures and Tributes will be reviewed before being posted. We will post them ASAP, we appreciate your patience. PLEASE DON'T RESUBMIT.
Mary Mays
b: 3/5/1939
d: 9/22/2020
Service: Pending


OraLynn Means
b: 7/13/1936
d: 9/21/2020
Service: 09/28/2020, 11:00 am at The LDS Church on 400 North


Guy Thomas
b: 1/10/1950
d: 9/18/2020
Service: Private


Werner Wucherer
b: 1/20/1934
d: 9/10/2020
Service: Private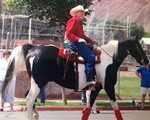 Rodney Dalton
b: 1/18/1934
d: 9/1/2020
Service: 09/08/2020, 10:00 am Grand Valley Cemetery

They Live On
Those we love remain with us
For love itself lives on;
Cherished memories never fade
Because one loved is gone.
Those we love can never be
More than a thought apart;
For as long as there's a memory,
They live on within our heart.