Vonda Bronson Wise
Born: 1/5/1920, Monticello, Utah
Death: 12/2/2012, Moab, Utah
Service: 12/07/2012, 12:00 pm, Moab Golf Course

Vonda Lee Bronson Wise -- January 5, 1920 - December 2, 2012
Vonda was born the youngest of seven children to Wilmer Bronson and Naomi Perkins, one of the first families to settle in Monticello, Utah. She and her family, including: sister, Gwyn Bronson Meador and brothers; Verde, Eural, Rex, Karel and Don Bronson made their way to Moab where Vonda lived until age 16.
At that point the family moved to Los Angeles, California where she graduated high school with honors. She was recruited as a specialist from Walt Disney Studios to become one of the first women members in the unit known as WAVES to be inducted into the United States Navy, in Washington, D.C.. There she met Cheif Specialist Alan Wise, the love of her life. They were married without ceremony, in dress uniform and within the same year of 1945 were both honorably discharge from the United States Navy.
The couple returned to California where her husband taught her to play golf and they subsequently had two children. Mark Alan Wise, born January 30, 1951 and Karen Edyse Wise, born July 28, 1955. She went on to excel as an amateur championship golfer and the best mother a child could ever know. Upon Alan's retirement, they relocated to Soboba Springs, California, where they lived and loved playing golf everyday until his death in February 1987.
Soon after, Vonda decided to come back to her roots and spend time with her sister Gwyn, her dear nephews, Bill and Junior Meador and her beloved neice Donna Bronson Reid. She and her daughter Karen returned to Moab in June of 1990. With the voice of an angel and emminent family history, she quickly joined the Valley Voices and Daughters of Utah Pioneers. There she shared the joy of song and precious pioneer heritage with hundreds of people. All the while, she never stopped playing golf. From 2001 to 2003 she participated in the Huntsman World Senior Games, never coming home without a medal. Two bronze and a special gold mnedal just ten years ago at the age of 82. No small feat for any golfer,. Her excellence and knowledge of the game made her a beloved member of the Moab Golf course.
?Her contributions to this community and her love of the countryside will not be forgotten. Thanks to those who loved, respected and admired her. She will never be forgotten. A celebration of her life will be held at Moab Golf course at 12 noon on Thursday December 5th. In lieu of flowers, please send donations to the Moab Cancer Society and/or the "First Tee" an organization that brings self respect and diginity to children in need.
From Mark and Karen, with great love and appreciation for those of you who have reached out in this time and who continue to show everyday how much she was loved and how much we are loved.
Printable Page Add Picture Add Tribute/Condolence
PLEASE NOTE: Pictures and Tributes will be reviewed before being posted. We will post them ASAP, we appreciate your patience. PLEASE DON'T RESUBMIT.
Mary Mays
b: 3/5/1939
d: 9/22/2020
Service: Pending


OraLynn Means
b: 7/13/1936
d: 9/21/2020
Service: 09/28/2020, 11:00 am at The LDS Church on 400 North


Guy Thomas
b: 1/10/1950
d: 9/18/2020
Service: Private


Werner Wucherer
b: 1/20/1934
d: 9/10/2020
Service: Private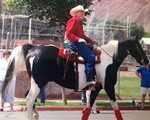 Rodney Dalton
b: 1/18/1934
d: 9/1/2020
Service: 09/08/2020, 10:00 am Grand Valley Cemetery

They Live On
Those we love remain with us
For love itself lives on;
Cherished memories never fade
Because one loved is gone.
Those we love can never be
More than a thought apart;
For as long as there's a memory,
They live on within our heart.