Mary Ann Rees
Born: 1/21/1946, Auburn, Nebraska
Death: 1/7/2013, Castle Valley, Utah
Service: 1/12/2013

Our dear mother, sister, aunt, neighbor, friend, and soon-to-be grandmother, Mary Schlange Rees passed away due to an accidental fall in her home. Those who knew Mary will understand just how ironic this is, considering she was more sure-footed than any mountain goat who ever traversed the rough terrain of the Colorado Plateau.
Mary was born on January 21, 1946 in Auburn, Nebraska. After meeting her future husband, Tom Rees, she moved to Utah in 1968 and graduated from the University of Utah in Anthropology. They settled in Moab and later in Castle Valley where she continued to live until her death.
Mary was a most resourceful person and cultivated her passions in a variety of ways. Upon moving to Castle Valley, she and Tom produced two beautiful, smart and industrious children – Tait and Hilary. Later she honed her horticultural skills into a business of restoring landscapes to their natural habitat. Mary's photographs captured extraordinary images of nature. Mary's writing was articulate, meaningful, and poignant. Her letters were always treasures.
Mary was preceded in death by her parents, Alvin and Augusta Schlange. She is survived by Tait Rees (Koel Thomae), Boulder, CO; Hilary Rees, Tucson, AZ; their father, Tom Rees, and many friends and colleagues who will miss her dearly.
A wake will be held in her memory at Pack Creek Ranch in Moab, Utah on Saturday January 12, 2013 at 3:00 pm. A memorial will be held during the summer of 2013. In lieu of flowers, donations can be made to the Grand Canyon Trust:
Grand Canyon Trust 2601 North Fort Valley Road Flagstaff, AZ 86001 http://www.grandcanyontrust.org
Printable Page Add Picture Add Tribute/Condolence
PLEASE NOTE: Pictures and Tributes will be reviewed before being posted. We will post them ASAP, we appreciate your patience. PLEASE DON'T RESUBMIT.
Mary Mays
b: 3/5/1939
d: 9/22/2020
Service: Pending


OraLynn Means
b: 7/13/1936
d: 9/21/2020
Service: 09/28/2020, 11:00 am at The LDS Church on 400 North


Guy Thomas
b: 1/10/1950
d: 9/18/2020
Service: Private


Werner Wucherer
b: 1/20/1934
d: 9/10/2020
Service: Private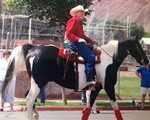 Rodney Dalton
b: 1/18/1934
d: 9/1/2020
Service: 09/08/2020, 10:00 am Grand Valley Cemetery

They Live On
Those we love remain with us
For love itself lives on;
Cherished memories never fade
Because one loved is gone.
Those we love can never be
More than a thought apart;
For as long as there's a memory,
They live on within our heart.