Frankie Jean Nightingale
Born: 12/14/1929, Pueblo, Colorado
Death: 1/10/2013, Moab, Utah
Service: 01/15/2013, 11:00 am, Community Church

Frankie was born in Pueblo, Colorado on December 14, 1929 to Frank Victor Adamich and Bonnie Brown Adamich. Frankie graduated from high school in Pueblo, Colorado and met the love of her life, I.D. (Skip) Nightingale while attending the University of Colorado at Boulder. Frankie and Skip were married on March 3, 1950 in Raton, New Mexico, thus beginning a life-long journey of adventure, discovery, and friendship.
Skip and Frankie initially settled in Pueblo, Colorado where their three children, Jill, Jack, and Penny were born. The family moved from Pueblo, Colorado to Tucson, Arizona to Durango, Colorado before settling at Farmington, New Mexico. Frankie worked as a homemaker until the children were older when she returned to college, commuting daily from Farmington to Durango, Colorado. Frankie graduated summa cum laude with a degree in English Literature in 1963 from Fort Lewis College. Throughout her life, Frankie had a passion for reading. She passed her love of literature on to her students at Farmington High School where she taught school for two years.
In 1970, after the children were nearly grown, Frankie and Skip embarked on a grand new adventure. They purchased a small, nearly bankrupt, severely undercapitalized, community bank in Moab, Utah. While Frankie had no banking work experience, she was a quick learner, and soon Frankie and Skip were working side-by-side as an inimitable team to turn this bank around. In 1996, they capitalized on their gamble, years of hard work and dedication by merging their bank with a much larger regional bank – Zions Bank. By any account, this was truly an "American Success Story".
Above all, Frankie cherished her family. Frankie and Skip loved to travel with their children and grandchildren and, together, they explored such far off places as Spain, Portugal, Alaska, Hawaii, Washington D.C., and New York. Closer to home, Frankie loved to take the mobile home on camping trips in the Mountains of Colorado with the children and grandchildren. She also loved family gatherings for the holidays. Frankie was a devout believer in Jesus Christ. She loved to read and study the Bible and was a long time member of the Community Church of Moab.
She is survived by her husband, Skip; a younger brother, Robert Adamich of San Francisco, California; her three children, Jill Jacobson (Gary) of Moab, Utah; Jack Nightingale of Farmington, New Mexico; and Penny Newman (Jim) of Montrose, Colorado. Frankie is also survived by seven grandchildren; three great-grandchildre; and several cousins, nieces and nephews.
Funeral Services were held at 11:00 am January 15 at Community Church of Moab.
Printable Page Add Picture Add Tribute/Condolence
PLEASE NOTE: Pictures and Tributes will be reviewed before being posted. We will post them ASAP, we appreciate your patience. PLEASE DON'T RESUBMIT.

Ronald Robertson
b: 8/24/1934
d: 9/27/2020
Service: 10/02/2020, 11:00 am Moab LDS Stake Center on Locust Lane

Mary Mays
b: 3/5/1939
d: 9/22/2020
Service: Pending


OraLynn Means
b: 7/13/1936
d: 9/21/2020
Service: 09/28/2020, 11:00 am at The LDS Church on 400 North


Guy Thomas
b: 1/10/1950
d: 9/18/2020
Service: Private


Werner Wucherer
b: 1/20/1934
d: 9/10/2020
Service: Private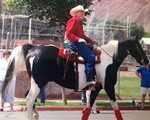 Rodney Dalton
b: 1/18/1934
d: 9/1/2020
Service: 09/08/2020, 10:00 am Grand Valley Cemetery

They Live On
Those we love remain with us
For love itself lives on;
Cherished memories never fade
Because one loved is gone.
Those we love can never be
More than a thought apart;
For as long as there's a memory,
They live on within our heart.