John "Jack" William West Jr.
Born: 1/3/1916, Bluffdale, Utah
Death: 2/27/2008, Bountiful, Utah
Viewing: 03/02/2008 from 6:00 to 8:00
Service: 03/03/2008 at 11:00 am, Moab 2nd Ward
Interment: 03/03/2008 at 12:30 pm, Sunset Memorial Gardens Cemetery

John "Jack" William West Jr., 92, passed away Wednesday February 27, 2008 in Bountiful, Utah.
Jack was born January 3, 1916 in Bluffdale, Utah to John William and Stella Miller West. He was an exceptional person with a caring heart and a special form of optimism. His early years were spent working the family farm near Point of the Mountain. Jack married Helen Irene Berglund, the love of his life, in 1937. He attended two years of college at Weber State in Ogden, and served in World War II in the Navy from 1945 – 1946. Jack's working years were in the gas and oil business. In Provo, he managed a Conoco Service Station. In 1957 he moved his family to Moab, to manage a Standard Oil (now Chevron) Bulk Plant and Service Station. He always had a special love of the deserts and high country plateaus of southeastern Utah. He was one of the tourism pioneers of the area by presenting slide shows to tourists as a public service, and installing direction signs along remote trails – long before BLM or National Park Service marked these roads. He was a member of the Jaycees and Rotary in Provo, became a charter member and President of the Moab Rotary, and was President of the Moab Chamber of Commerce. He was one of the founders of the now famous Moab Jeep Safari. Jack was elected to the Moab City Council, and served as a Travel Council Member, Moab Museum Board Member and Chairman of the Canyonlands National History Association. Jack was also a member of the LDS Church.
He is survived by his son James Neil (Judy Barney) West of Bountiful; and his daughter Ann Schvaneveldt of Las Cruces, NM ; granddaughter Jenna (Danny) Wright of Kaysville; grandson John Ryan (Ashley) West of North Salt Lake; granddaughter Susan (Bill) Hamm of Las Cruces, NM; and great grandchildren Riley Wright, Adam Wright, and Taylor Hamm.
Jack was preceded in death by his wife of 65 years Helen Berglund West; his parents; a brother A. Ray West, a sister Mildred Tolhurst Hardy, and a great grandchild Jack Carl West.
Funeral Services will be held on Monday March 3, 2008 at 11:00 am at the Moab LDS 2nd Ward Chapel 475 West 400 North. A viewing will be held on Sunday March 2, 2008 from 6:00 to 8:00 pm at Spanish Valley Mortuary and from 10:00 to 10:40 am on Monday March 3 at the Church. Interment will be at the Sunset Memorial Gardens Cemetery with Military Rites being accorded by American Legion Post #54. The family would like to thank the staff at Barton Creek Assisted Living for all the special care they gave to Jack.
Photo Gallery - Click a Picture For Enlarged Slide Show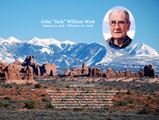 Printable Page Add Picture Add Tribute/Condolence Funeral Program
PLEASE NOTE: Pictures and Tributes will be reviewed before being posted. We will post them ASAP, we appreciate your patience. PLEASE DON'T RESUBMIT.

Gail Leavitt
b: 10/25/1931
d: 11/19/2020
Service: 11/28/2020, 11:00 am Moab LDS Stake Center on Locust Lane with streaming live for others on Spanish Valley Mortuary Facebook page.


Elizabeth Liz George
b: 9/19/1947
d: 11/18/2020
Service: Private


Bette Stanton
b: 5/5/1934
d: 11/16/2020
Service: Pending


Dixie Buckingham
b: 6/19/1947
d: 11/15/2020
Service: Pending


Vladimir Grechka
b: 3/3/1962
d: 11/6/2020
Service: Private


Richard Spence
b: 10/16/1962
d: 11/1/2020
Service: 11/06/2020, 7:00 pm Spanish Valley Mortuary


Debra Kirwan
b: 3/21/1959
d: 10/30/2020
Service: 11/07/2020, 1:00 pm Grand Valley Cemetery

They Live On
Those we love remain with us
For love itself lives on;
Cherished memories never fade
Because one loved is gone.
Those we love can never be
More than a thought apart;
For as long as there's a memory,
They live on within our heart.