Bill Dale Wilson
Born: 9/11/1951, Grand Junction, Colorado
Death: 4/14/2013, Grand Junction, Colorado
Service: 04/20/2013, 2:00 pm, Gravel Pit Lanes Bowling Alley

William Dale Wilson passed away April 14, 2013 at St. Mary's Hospital in Grand Junction, Co surrounded by his family.
Bill was born September 11,1951 to Kenneth and Doris (Wilson) McDougald in Grand Junction, Co. Bill lived in Norwood, Co as a young child. When he was 11 he moved to Moab with his family, when both of his parents took jobs as school teachers. He attended Grand County Schools and graduated in 1969. Throughout high school Bill and his brothers found a passion for drag racing. They built fast cars and great memories.
After high school, Bill married Colleen Stocks. They had two children Dusty and Tristan. His kids were always the true love of his life. They both held a special place in his heart.
Bill was a handy and talented guy. He worked for the State Road Department, cowboy, and heavy equipment operator and many other trades. He had natural ability for operating heavy equipment. He continued this line of work through out his whole life.
Bill was a cowboy, plain and simple. He enjoyed everything about it, from branding to riding herd. He loved team roping and riding. He will be missed by the great life long friends he made during these years. Bill enjoyed the outdoors and spending quality time with his family. Camping, hunting, and fishing were all favorite pastimes of his.
Bill is survived by his son Dusty Wilson (Moab), daughter Tristan (Chris) Salazar, LaSalle,Co..Brothers Clark (Teresa) Wilson, Moab, Dave (Cheryl) Wilson,Mt. View, Ca..Sister Becky McCormick, Moab. He had 2 nieces, 2 nephews, 4 grandchildren, and 10 great nieces & nephews. He is preceded in death by his parents Kenneth Wilson, and Doris (William) McDougald, and nephew Simon Limas.
A wake will be held by his family in his honor on Saturday April 20th , 2 pm. at The Gravel Pit Lanes 1078 Millcreek Drive, Moab UT. Everyone loved Bill, come and share memories with us.
In lieu of flowers a memorial fund has been set up at Zions National Bank 330 South Main St Moab, UT 84532 under William Wilson.
Printable Page Add Picture Add Tribute/Condolence
PLEASE NOTE: Pictures and Tributes will be reviewed before being posted. We will post them ASAP, we appreciate your patience. PLEASE DON'T RESUBMIT.
Mary Mays
b: 3/5/1939
d: 9/22/2020
Service: Pending


OraLynn Means
b: 7/13/1936
d: 9/21/2020
Service: 09/28/2020, 11:00 am at The LDS Church on 400 North


Guy Thomas
b: 1/10/1950
d: 9/18/2020
Service: Private


Werner Wucherer
b: 1/20/1934
d: 9/10/2020
Service: Private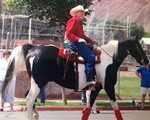 Rodney Dalton
b: 1/18/1934
d: 9/1/2020
Service: 09/08/2020, 10:00 am Grand Valley Cemetery

They Live On
Those we love remain with us
For love itself lives on;
Cherished memories never fade
Because one loved is gone.
Those we love can never be
More than a thought apart;
For as long as there's a memory,
They live on within our heart.