Gladys Hancock Gardner

Born: 7/31/1919, Serree, Kentucky
Death: 5/17/2013, Moab, Utah
Service: 05/25/2013, 11:00 am, St. Francis Episcopal Church
Interment: Pending, Chapel of Our Saviour in Colorado Springs.


Gladys Gardner, age 93, passed away at home peacefully with family present on May 17, 2013. She was born in Sebree, Kentucky on July 31, 1919, the oldest child of Cecil and Florence (Powell) Hancock. She grew up in West Frankfort, IL, where her father was a school principal and Boy Scout leader. Gladys grew up as a Boy Scout, travelling with her father and the troop to camp in lots of national parks all over the US in the 30's. Both sides of the family were fascinated by genealogy and Gladys became a 5th generation genealogist.

On April 12, 1942, she married Orville Kenneth Gardner in Washington DC. As an Army wife she lived in many states plus Okinawa. Each of her 3 children were born in different states (Suzie – OK, Kenn – TX, Barb – NM). In 1958 they were transferred from Massachusetts to Colorado Springs where they lived for 40 years – Army Signal Corps service, civil service and retirement. In 1998 they moved to Moab to be close to their daughter, Suzie (Tom) Stengel and her youngest grandchildren, Becky and Jamie Stengel.

Gladys loved history and travelling (Japan, Europe, Turkey, Russia, Israel, Australia and riding a camel in Egypt). She was rich in age, in character and in heart. Her memory and friendliness are legendary. At age 93 she still remembered names and dates of her families many generations ago. Meeting people any where she would ask where they are from, how many children, how they met their spouse, what their interests are, etc – and remembered that info. She inspired many people to investigate their own genealogy. She also loved playing Scrabble and won many games. She was very supportive of education and loved being a volunteer tutoring 1st graders.

She was preceded in death by her husband; parents; sister, Vera Harper; and brother, Jim Hancock. She is survived by sister, Sue (Bill) Norovich; brother, Jerry (Astrid) Hancock; daughter, Suzie (Tom) Stengel; son, KennCorwin (Trina) Gardner; daughter, Barbara Gardner; 6 grandchildren and 1 great grandchild. She was very proud and supportive of all her family, and everyone wildly loved her.

Gladys will be cremated. There will be a memorial service at St. Francis Episcopal Church on May 25th at 11am. Her ashes will be buried later at Chapel of Our Saviour in Colorado Springs.

Tributes:

Had many long talks with over the phone. Loved her stories. Hope she is at peace. Wish I had the time to meet her. Seems like she had a wonderful family and life.
- Valerie

Printable Page Add Picture Add Tribute/Condolence

PLEASE NOTE: Pictures and Tributes will be reviewed before being posted. We will post them ASAP, we appreciate your patience. PLEASE DON'T RESUBMIT.
Mary Mays
b: 3/5/1939
d: 9/22/2020
Service: Pending


OraLynn Means
b: 7/13/1936
d: 9/21/2020
Service: 09/28/2020, 11:00 am at The LDS Church on 400 North


Guy Thomas
b: 1/10/1950
d: 9/18/2020
Service: Private


Werner Wucherer
b: 1/20/1934
d: 9/10/2020
Service: Private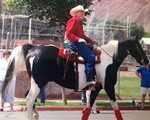 Rodney Dalton
b: 1/18/1934
d: 9/1/2020
Service: 09/08/2020, 10:00 am Grand Valley Cemetery

They Live On
Those we love remain with us
For love itself lives on;
Cherished memories never fade
Because one loved is gone.
Those we love can never be
More than a thought apart;
For as long as there's a memory,
They live on within our heart.