Barbara Catherine Schock
Born: 1/5/1924, Woodbridge, New Jersey
Death: 3/16/2008, Grand Junction, Colorado
Service: 03/20/2008, 1:00 pm, Spanish Valley Mortuary

Moab, Utah - Barbara Catherine Schock, 84, passed away on Sunday, March 16, 2008, at St. Maryís Hospital in Grand Junction.
Barbara was born January 5, 1924 in Woodbridge, New Jersey to Balint and Berta Kiss Kovacs. She later moved to a vegetable farm in English Town, New Jersey where she grew up and went to school. In 1945 she married Ernie Stuart and moved to Colorado. She had 2 sons Paul and Wally. She moved to Denver in 1965 where she met Al Schock and they married in 1968. After Alís retirement they moved to Moab, Utah in 1990.
She loved the desert, being up on the Mesas and motorcycling in the desert, feeding all of the little critters and loved hunting for arrowheads. Her favorite pass time was reading recipes and cooking, playing the slot machines, and visiting with friends. Her years in Moab created an extended family that she loved dearly and they loved her.
She is survived by her husband Al of Moab; 2 sons Paul Stuart of Granby, CO ,and Wally Stuart of Missoula, MT; 6 grandchildren and 11 great-grandchildren.
She was preceded in death by her parents, 11 brothers and sisters and 2 grandchildren Kristen Stuart, and Erin Stuart.
Funeral Services will be held Thursday March 20, 2008 at Spanish Valley Mortuary 386 North 100 West Moab, Utah at 1:00 pm.
Photo Gallery - Click a Picture For Enlarged Slide Show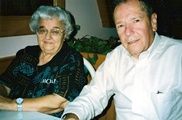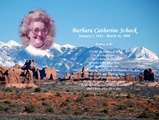 Printable Page Add Picture Add Tribute/Condolence Funeral Program
PLEASE NOTE: Pictures and Tributes will be reviewed before being posted. We will post them ASAP, we appreciate your patience. PLEASE DON'T RESUBMIT.
Mary Mays
b: 3/5/1939
d: 9/22/2020
Service: Pending


OraLynn Means
b: 7/13/1936
d: 9/21/2020
Service: 09/28/2020, 11:00 am at The LDS Church on 400 North


Guy Thomas
b: 1/10/1950
d: 9/18/2020
Service: Private


Werner Wucherer
b: 1/20/1934
d: 9/10/2020
Service: Private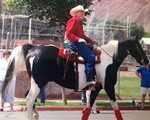 Rodney Dalton
b: 1/18/1934
d: 9/1/2020
Service: 09/08/2020, 10:00 am Grand Valley Cemetery

They Live On
Those we love remain with us
For love itself lives on;
Cherished memories never fade
Because one loved is gone.
Those we love can never be
More than a thought apart;
For as long as there's a memory,
They live on within our heart.