Mary Lou Richardson

Born: 11/23/1941, Claremore, Oklahoma
Death: 6/9/2013, Green River, Utah
Service: 06/14/2013, 1:00 pm, Green River Bible Church


Mary Lou Richardson, 71, passed away June 9, 2013 at her home in Green River surrounded by her loving family.

Mary Lou was born November 23, 1941 to Emma Katrina and Kenneth Hal Gregg in Claremore, Oklahoma where she lived for the longest consecutive years (6) of her youth. She lived in more than 2 dozen communities across the United States as a child moving with her fatherís jobs and ministry, and following Buddy in seismograph and road construction jobs. She graduated from Carlsbad High in Carlsbad, New Mexico in 1960, with many of her and Buddyís life long friends.

On December 31, 1960 Mary Lou and Buddy Richardson were married by her Southern Baptist Pastor, who happened to be her father, Kenneth Gregg. They had 51 years of sharing their life together moving with 1 to 3 children for 27 years with the HE Lowdermilk crew, with most of it following the construction of I 70 from Pueblo, CO to the end at Fremont Jct. in Utah. In the middle of this stretch they decided to stay in Green River, Utah and let the children finish school there. That last move lasted 44 years and this is where Mary Lou acquired many life long friends through her kidsí school functions, long time fellowship at Green River Bible Church and through her involvement with the local Epsilon Sigma Alpha, and the Green River Jeep Posse.

Mary Lou immensely enjoyed spending time with her family, whether for holidays or anytime they got together and will be greatly missed by her siblings, children, grandchildren, great-grandchildren, and a multitude of friends. She was an amazing mom to her kids and others as well. She never met anyone that she didnít consider a friend. She embraced life with an abundance of love and kindness, always there for anyone that needed it. Iím sure she made her parents proud!!

She is survived by her sisters Barbara (Bob) Crawford of Pueblo, CO, and Susie Perrin of Colorado Springs, CO; her children Vicki Dinkins of Green River, UT, Pam (Clay) Palfreyman of Springville, UT, Gregg (Tera Lee) Richardson of Vernal, UT; grandchildren Stephanie, Chad, Rosemary, Lincoln, CR, Samantha, Emmy, Mikki, Raynee, and Riley; great-grandchildren Karver, Austin, Hunter, Lily, Aaron, Jon, Katy, and Ryland.

Mary Lou was preceded in death by her parents Kennth and Emma Gregg, oldest brother Jimmy Gregg and younger brother Kenny Gregg, a grandson Tracy Palfreyman, a son-in-law Steven Dinkins, and on Febuary 29, 2012 her husband of 51 years Buddy Richardson.

A Memorial Service will be held Friday June 14, 2013 at 1:00 pm at the Green River Bible Church.

Printable Page Add Picture Add Tribute/Condolence

PLEASE NOTE: Pictures and Tributes will be reviewed before being posted. We will post them ASAP, we appreciate your patience. PLEASE DON'T RESUBMIT.

Ronald Robertson
b: 8/24/1934
d: 9/27/2020
Service: 10/02/2020, 11:00 am Moab LDS Stake Center on Locust Lane

Mary Mays
b: 3/5/1939
d: 9/22/2020
Service: Pending


OraLynn Means
b: 7/13/1936
d: 9/21/2020
Service: 09/28/2020, 11:00 am at The LDS Church on 400 North


Guy Thomas
b: 1/10/1950
d: 9/18/2020
Service: Private


Werner Wucherer
b: 1/20/1934
d: 9/10/2020
Service: Private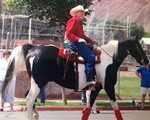 Rodney Dalton
b: 1/18/1934
d: 9/1/2020
Service: 09/08/2020, 10:00 am Grand Valley Cemetery

They Live On
Those we love remain with us
For love itself lives on;
Cherished memories never fade
Because one loved is gone.
Those we love can never be
More than a thought apart;
For as long as there's a memory,
They live on within our heart.