Sheryl Christensen Merrell

Born: 10/14/1930, Monticello, Utah
Death: 6/14/2013, Moab, Utah
Viewing: 06/18/2013, 10:00 to 11:00 am, Spanish Valley Mortuary
Service: 06/18/2013, 11:30 am, Sunset Memorial Gardens Cemetery
Interment: 06/18/2013, 12:30 pm, Sunset Memorial Gardens Cemetery


Sheryl Christensen Merrell, long time resident of Moab, Utah, completed her earthly journey, on the evening of June 14, 2013 with her daughter Melinda Schmidt at her side.

Sheryl was born to Wilford and LeNora Christensen on October 13, 1930 in Monticello, Utah. She was the youngest of six children: Rowena, Donna, Buckley, Bonnie, and Beverly. All of Sheryl's sisters preceded her in death, she is survived by her brother Buckley and his wife Yvonne.

On October 21, 1960, Sheryl married Harvey W. Merrell and acquired his three children: Kristine, Douglas and David. Douglas preceded her in death. In 1967, Melinda was born followed soon by Matthew in 1969. Sheryl is survived by: Melinda Schmidt, her husband Shad their two sons: Wilson and Cade, Matthew Merrell, his wife Wendy their three children: Page, Chase and Claire. Sheryl is also survived by her Stepchildren : Kristine Merrell Rogers (Lane), David Merrell and 4 Step grandsons. Her husband Harvey passed away in May, 2004.

Sheryl loved the outdoors, throughout her adult life, she longed for her childhood days when she "took the cows to the pasture." As an adult, Sheryl tirelessly traipsed around the desert with her geologist husband, Harvey, looking at rocks. Sheryl filled her pockets with rocks that she liked, she refused to abandon any rock that struck her fancy even if Harvey declared it to be "no good." Sheryl's last days were spent outside if at all possible, in spite of her failing health, she was strong enough to part the curtain, look out the window and declare: "it looks nice out there."

In addition to mother nature, Sheryl loved her family, especially her children and grandchildren, her dog Tyros, chocolate and coca cola; not necessarily in that order.

A Graveside Service will be held Tuesday June 18, 2013 at 11:30 am at the Sunset Memorial Gardens Cemetery. A viewing will be held from 10:00 to 11:00 am prior to the service.

Printable Page Add Picture Add Tribute/Condolence

PLEASE NOTE: Pictures and Tributes will be reviewed before being posted. We will post them ASAP, we appreciate your patience. PLEASE DON'T RESUBMIT.
Mary Mays
b: 3/5/1939
d: 9/22/2020
Service: Pending


OraLynn Means
b: 7/13/1936
d: 9/21/2020
Service: 09/28/2020, 11:00 am at The LDS Church on 400 North


Guy Thomas
b: 1/10/1950
d: 9/18/2020
Service: Private


Werner Wucherer
b: 1/20/1934
d: 9/10/2020
Service: Private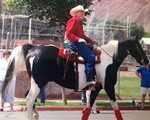 Rodney Dalton
b: 1/18/1934
d: 9/1/2020
Service: 09/08/2020, 10:00 am Grand Valley Cemetery

They Live On
Those we love remain with us
For love itself lives on;
Cherished memories never fade
Because one loved is gone.
Those we love can never be
More than a thought apart;
For as long as there's a memory,
They live on within our heart.