Shane Schultz
Born: 2/1/1970, Deming, New Mexico
Death: 6/19/2013, Murray, Utah
Viewing: 06/26/2013, 11:00 to 1:00
Service: 06/26/2013, 1:00 pm, Moab Baptist Church
Interment: 06/27/2013, 11:00 am, Sunset Memorial Gardens Cemetery

Shane Lee Schultz 43 of Neola, UT passed away on June 19th, 2013 in Murray, UT after a short illness. Shane was born in Deming, NM February 1st, 1970 to George Robert and Barbara Kaye Schultz.
The Schultz family moved to Moab in early 1976, Shane graduated Grand County High school in 1988 and then was accepted into the United States Coast Guard, serving 2 years aboard the USCG Cutter Ironwood and then at Air Station Kodiak (Kodiak, Alaska). After leaving Alaska Shane and his new family lived in Nevada, Utah, and Arizona before making Los Alamos, NM their home in 1996. He graduated from the Federal Law Enforcement Training Center (FLETC) Artesia, NM in 1999. Shane served with the Pojoque and Tesuque tribal police agencies and then as a United States Federal Air Marshal. In 2008 he entered military service again, serving with the 1st Infantry Division Fort Riley, KS as a Combat Engineer. Shane married Stephanie Corn of Moab January 16th 2010. In early 2011 he was deployed to Afghanistan with the 4th squadron 4th Cavalry Regiment "pale riders". In late 2012 Shane retired medically from active duty, at that time he and his wife relocated to Neola, UT, he was attending USU at the time of his death.
Shane loved being in the mountains around Neola, he loved being outdoors with his dogs, fishing and camping. Shane enjoyed jeeping, it's in his genetic make up.. He enjoyed spending time with family and friends, making homemade pizza and grilling on the BBQ. Shane was know and will be remembered for his sense of humor, crazy pranks, and that infectious laugh of his.
Shane was proceeded in death by his father George R. Schultz of Moab, UT and Brother Jesse Schultz of Los Alamos, NM. He is survived by his wife Stephanie Schultz of Neola, UT, mother Barbara Mitchell of Clovis, NM, brothers Tony Schultz (Aidai) of Bishkek, Kyrgyzstan, Wes Schultz (Mandy) of Bagdad, AZ, and Kevin Schultz of Los Alamos, NM, daughter Jessica Underwood-Wallace, granddaughters Jayci and Audrey of Houston, Texas, son Tyler Schultz of Los Alamos, NM, daughter Kalyn Schultz of Los Alamos, NM, Sadie and Luna his beloved dogs of Neola, UT, step children Alyson Allgood (Dylan) of Neola, UT and Cassie Lema of Moab, UT. Stepmother Diana Webb (TJ) of The Villages, FL, stepbrother David Slavens (Heidi) of Minneapolis, MN, stepsisters Jennifer White (Ryan) of Colorado Springs, CO, and Ellen Trachman (William) of Denver, CO. Shane is also survived by many nieces, nephews that he adored.
A viewing will be held on Wednesday June 26th, 11am and services will follow @ 1pm, Moab Baptist Church, Moab Utah. Internment Thursday June 27th, 11am at sunset memorial cemetery, Moab, Utah. A lunch will be served following the interment @ Moab Baptist church.
Printable Page Add Picture Add Tribute/Condolence
PLEASE NOTE: Pictures and Tributes will be reviewed before being posted. We will post them ASAP, we appreciate your patience. PLEASE DON'T RESUBMIT.
Mary Mays
b: 3/5/1939
d: 9/22/2020
Service: Pending


OraLynn Means
b: 7/13/1936
d: 9/21/2020
Service: 09/28/2020, 11:00 am at The LDS Church on 400 North


Guy Thomas
b: 1/10/1950
d: 9/18/2020
Service: Private


Werner Wucherer
b: 1/20/1934
d: 9/10/2020
Service: Private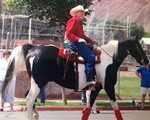 Rodney Dalton
b: 1/18/1934
d: 9/1/2020
Service: 09/08/2020, 10:00 am Grand Valley Cemetery

They Live On
Those we love remain with us
For love itself lives on;
Cherished memories never fade
Because one loved is gone.
Those we love can never be
More than a thought apart;
For as long as there's a memory,
They live on within our heart.