Richard Wilson Rowland
Born: 9/9/1960, Delta, Utah
Death: 6/20/2013, Moab, Utah
Service: 06/26/2013, 6:00 pm, Spanish Valley Mortuary

Richard Wilson Rowland, 52, died June 20th, 2013 at his home in Moab, UT. Richard was born in Delta, Colorado to John "Johnny" and Constance "Connie" Rowland. The family moved to El Centro, California in 1966 where he spent his childhood. In 1980 the family again relocated to Moab, Utah. In Moab Rick met Rhonda Jean Pitchford and they had two daughters, Alicia and Ashley Rowland. Rick loved his friends and family and was always willing to help a friend in need. He loved camping, listening to music and riding his bike. He had a passion for science and loved learning. Most of all, he loved spending time with his mother, daughters and grandchildren.
He is survived by his mother, Constance "Connie" Rowland, his brother Kevin Rowland, his daughters Alicia Rowland and Ashley Rowland Wilson, step-daughters, Ariel Rowland-Velasquez and Amanda Montoya, and grandchildren Aydan Noorlander, Katelynn Wilson, Asher Velasquez, and Hannah Velasquez.
Services will be held Wednesday, June 26th, 6:00 pm at Spanish Valley Mortuary.
Printable Page Add Picture Add Tribute/Condolence
PLEASE NOTE: Pictures and Tributes will be reviewed before being posted. We will post them ASAP, we appreciate your patience. PLEASE DON'T RESUBMIT.
Mary Mays
b: 3/5/1939
d: 9/22/2020
Service: Pending


OraLynn Means
b: 7/13/1936
d: 9/21/2020
Service: 09/28/2020, 11:00 am at The LDS Church on 400 North


Guy Thomas
b: 1/10/1950
d: 9/18/2020
Service: Private


Werner Wucherer
b: 1/20/1934
d: 9/10/2020
Service: Private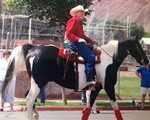 Rodney Dalton
b: 1/18/1934
d: 9/1/2020
Service: 09/08/2020, 10:00 am Grand Valley Cemetery

They Live On
Those we love remain with us
For love itself lives on;
Cherished memories never fade
Because one loved is gone.
Those we love can never be
More than a thought apart;
For as long as there's a memory,
They live on within our heart.