Clinton (Rollie) Rowland Thompson

Born: 4/7/1930, Price, Utah
Death: 7/21/2013, Green River, Utah
Viewing: 07/26/2013, 9:00 to 11:00 am, Green River Bible Church
Service: 07/26/2013, 11:00 am, Green River Bible Church
Interment: 07/26/2013, 12:30 pm, Elgin Cemetery


Clinton Rowland "Rollie" Thompson passed away of natural causes at the age of 83 at his daughter's home in Green River, Utah on July 21, 2013.

Rollie was born to Rowland Pierce and Pearl Hanks Thompson on April 7, 1930 in Price, Utah. Rollie graduated from Green River High School. He married Mary Jean Dumas on February 28, 1951, and they were later sealed in the LDS Temple on October 9, 1964. He worked at Kennecott Copper for a few years, and then moved his family back to Green River. He worked in the uranium mines is southeastern Utah until the opening of the White Sands Missile Launch Site in Green River in the early 1960's where he was hired as a Maintenance Supervisor. He also supervised the building of the Blanding, and Ticaboo, Utah Sites, and an Air Force Base in Mountain Home, Idaho.

Rollie is survived by four children: Connie Copenhaver of Green River, UT, Ted (Larette) Thompson of Salt lake City, UT, Sharon (Richard) Seely of Green River, UT, Lucinda (Mel) Bartz of New Harmony, UT; was also blessed with 21 grandchildren , and 49 great-grandchildren and 10 great-great-grandchildren.

Rollie was preceded in death by his parents, wife Jean on March 31, 1999, and a son Clinton Rowland Thompson Jr.

Funeral Services will be held on Friday July 26, 2013 at 11:00 am at the Green River Bible Church with a viewing 2 hours prior to the service. Burial will follow at the Elgin Cemetery on Hastings Road.

In Lieu of flowers donations can be made to the Green River Bible Church.

Printable Page Add Picture Add Tribute/Condolence

PLEASE NOTE: Pictures and Tributes will be reviewed before being posted. We will post them ASAP, we appreciate your patience. PLEASE DON'T RESUBMIT.

Ronald Robertson
b: 8/24/1934
d: 9/27/2020
Service: 10/02/2020, 11:00 am Moab LDS Stake Center on Locust Lane

Mary Mays
b: 3/5/1939
d: 9/22/2020
Service: Pending


OraLynn Means
b: 7/13/1936
d: 9/21/2020
Service: 09/28/2020, 11:00 am at The LDS Church on 400 North


Guy Thomas
b: 1/10/1950
d: 9/18/2020
Service: Private


Werner Wucherer
b: 1/20/1934
d: 9/10/2020
Service: Private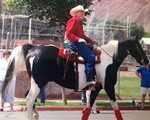 Rodney Dalton
b: 1/18/1934
d: 9/1/2020
Service: 09/08/2020, 10:00 am Grand Valley Cemetery

They Live On
Those we love remain with us
For love itself lives on;
Cherished memories never fade
Because one loved is gone.
Those we love can never be
More than a thought apart;
For as long as there's a memory,
They live on within our heart.