Samuel Avery Woodruff

Born: 5/14/1998, Grand Junction,Colorado
Death: 8/10/2013, Moab, Utah
Viewing: 08/15/2013, 6:00 to 8:00 pm
Service: 08/16/2013, 4:00 pm, Grand County /High School Auditorium
Interment: 08/16/2013, 5:30 pm


Samuel Avery Woodruff was born May 4, 1998 in Grand Junction, Colorado and passed from this life of natural causes on August 10, 2013 at the age of 15 years and 3 months in his home in Moab, Utah. Sam is the son of Merry Ruth Woodruff, and adopted grandson of Sandi Roedel, both of Moab.

Sam was entering the 10th grade at Grand County High School where his interests lay in football (as a lineman for the Red Devils) and auto mechanics.

Sam is survived by his mother Merry; grandmother Sandi; uncles: Billy (Angie) Roedel, Mike (Jacquie) Roedel, Danny (Kelly) Woodruff, Dave Monica Hester; aunts Debbie (Ed) Hiett, Deborah Cunningham, Scarlet Woodruff. He is also survived by a multitude of cousins, both natural and adopted.

He was preceded in death by his grandparents, Bonnie Jean and Dallin Blaine Woodruff; great-grandparents Bertha and Leonard Woodruff and Blanche Miles as well as uncles, aunts, and cousins.

Funeral Service will be held Friday August 16, 2013 at 4:00 pm at The Grand County High School Auditorium, officiated by Rev. Vernon Finck and assisted by Bishop David Knutson. A viewing will be held Thursday August 15, 2013 from 6:00 to 8:00 pm at Spanish Valley Mortuary.

Printable Page Add Picture Add Tribute/Condolence

PLEASE NOTE: Pictures and Tributes will be reviewed before being posted. We will post them ASAP, we appreciate your patience. PLEASE DON'T RESUBMIT.
Mary Mays
b: 3/5/1939
d: 9/22/2020
Service: Pending


OraLynn Means
b: 7/13/1936
d: 9/21/2020
Service: 09/28/2020, 11:00 am at The LDS Church on 400 North


Guy Thomas
b: 1/10/1950
d: 9/18/2020
Service: Private


Werner Wucherer
b: 1/20/1934
d: 9/10/2020
Service: Private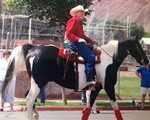 Rodney Dalton
b: 1/18/1934
d: 9/1/2020
Service: 09/08/2020, 10:00 am Grand Valley Cemetery

They Live On
Those we love remain with us
For love itself lives on;
Cherished memories never fade
Because one loved is gone.
Those we love can never be
More than a thought apart;
For as long as there's a memory,
They live on within our heart.