Fred L. Baker
Born: 10/21/1917, Hillsboro, Texas
Death: 4/15/2008, Grand Junction, Colorado
Service: 04/18/2008, 10:00 am, St. Pius X Catholic Church
Interment: 04/18/2008 11:00 am, , Sunset Memorial Gardens Cemetery
Moab / Grand Junction - Fred L. Baker, 90, passed away Tuesday, April 15, 2008, at home in Grand Junction, CO.
Fred was born October 21, 1917 in Hillsboro, Texas to Luther and Dorothy Hodges Baker. He grew up in Texas and Oklahoma, and graduated from John Brown High School, a boarding school, in Arkansas. After high school, Fred initially served two years in the Army during peactime then enlisted and served in the Navy during WWII. After he served his country, Fred became a federal court reporter which took him to Tucson, AZ. There he met and married Elizabeth "Betty" Rose Newman Schrader in Tucson, AZ, June 30, 1977. Fred and Betty enjoyed many activities such as flying their small plane, ballroom dancing, boating, motorcycle riding and RVing throughout the United States and Mexico. Fred enjoyed gardening and was known for his beautiful roses. Fred loved dogs and raised Cocker Spaniels for show. He later showed his Golden Retreivers. He also enjoyed skeet shooting, photography, golfing and just spending time with his many friends and family members.
Fred and Betty settled down in Moab, Utah where they made many wonderful friends and became deeply involved in the St. Pius X Catholic Church community. Fred was a member of the Knights of Columbus, the Rotary Club, and a Pilot's Club in Arizona.
Fred is survived by his children Lynn (Ken) Luball of Grand Junction, CO, Paula (Lew) Rosen of Claremont, NH, David (Diane)Schrader of Sebastopol, CA, Beth O'Barr of Tucson; 7 loving grandchildren and 10 great grandchildren.
He was preceded in death by his wife Betty on January 16, 2008.
A Funeral Mass will be held April 18, 2008 at 10:00 am with a Rosary Service Thursday April 17 at 7:00 pm. Burial will be at the Sunset Memorial Gardens Cemetery with Military Rites being accorded by American Legion Post #54.
Photo Gallery - Click a Picture For Enlarged Slide Show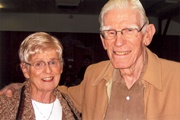 Printable Page Add Picture Add Tribute/Condolence
PLEASE NOTE: Pictures and Tributes will be reviewed before being posted. We will post them ASAP, we appreciate your patience. PLEASE DON'T RESUBMIT.
Linda Canepa
b: 3/14/1940
d: 11/14/2019
Service: 11/21/2019, 1:00 pm
Spanish Valley Mortuary
Ina Griswold
b: 12/6/1927
d: 11/3/2019
Service: 11/05/2019, 5:00 pm
Seventh Day Adventist Church 4581 Spanish Valley Drive
Zella Ceniceros
b: 2/8/2002
d: 10/30/2019
Service: 11/09/2019, 11:00 am
Moab LDS Stake Center on Locus Lane
Connie May
b: 4/30/1957
d: 10/30/2019
Service: Private
Dorothy Larrabee
b: 4/7/1927
d: 10/23/2019
Service: 11/05/2019, 11:00 am
400 North Chapel Moab, UT
Lavada Casey
b: 11/3/1912
d: 10/3/2019
Service: 10/14/2019, 11:00 am
Community Church
They Live On
Those we love remain with us
For love itself lives on;
Cherished memories never fade
Because one loved is gone.
Those we love can never be
More than a thought apart;
For as long as there's a memory,
They live on within our heart.