Terrance "Terry" W. Shepherd
Born: 12/8/1948, Oakland, California
Death: 5/24/2008, Moab, Utah

Moab- Terrence "Terry" Wesley Shepherd passed away surrounded by his family on Saturday May 24, 2008 at Allen Memorial Hospital after a long battle with cancer.
Terry was born in Oakland, CA December 8, 1948 to Wesley DeWayne and Elfa Maxine Willford Shepherd. The family moved to Moab, Utah in 1957then later moved to Pueblo, CO where Terry graduated from High School. After High School Terry graduated from Barber School. Later he became a professional truck driver and made his home in Moab, Utah.
Terry is survived by his children Terry Wes, Tami (Johnny) Woodruff, Pam (Keith) Menz, Jerry (Desiree), and Wade Shepherd; 10 grandchildren; seven siblings, Sharon Freeman, DeWayne (Barb), James Vernon (Laura), Cole Wayne (Tracey), Morgan, Corry (Crystal) and Calico (Scott) Hagadorn; 14 nieces and nephews.
He was preceded in death by his parents, a brother Wesley De Shepherd, and a step son Troy Dirk Bierschied.
At Terry request, cremation has taken place and a private family service will take place at a later date.
We love you and are going to miss you! You were a loving dad, brother, grandfather, and uncle. Your family.
Photo Gallery - Click a Picture For Enlarged Slide Show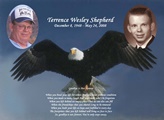 Printable Page Add Picture Add Tribute/Condolence
PLEASE NOTE: Pictures and Tributes will be reviewed before being posted. We will post them ASAP, we appreciate your patience. PLEASE DON'T RESUBMIT.
Clifford Joy
b: 6/3/1934
d: 2/5/2019
Service: Pending
Marjorie Quinn
b: 7/5/1926
d: 2/2/2019
Service: Pending
Mel Dalton
b: 1/31/1923
d: 1/25/2019
Service: 02/01/2019, 11:00 am
Moab LDS Stake Center on Locust Lane
Devin St. Clair
b: 8/15/1991
d: 1/25/2019
Service: 02/08/2019, 11:00 am
Spanish Valley Mortuary
Helen Knight
b: 4/3/1950
d: 1/22/2019
Service: 01/31/2019, 11:00 am
Moab LDS Stake Center on Locust Lane
Michaelene Pendleton
b: 5/15/1946
d: 1/21/2019
Service: Private
Bobby Brookshier
b: 5/7/1929
d: 1/21/2019
Service: 01/28/2019, 1:00 pm
Assembly Of God Church
Jeanne von Zastrow
b: 6/10/1955
d: 1/20/2019
Service: 01/26/2019, 11:00 am
St Francis Episcopal Church
They Live On
Those we love remain with us
For love itself lives on;
Cherished memories never fade
Because one loved is gone.
Those we love can never be
More than a thought apart;
For as long as there's a memory,
They live on within our heart.