Dollie Tangreen
Born: 10/20/1936, Monticello, Utah
Death: 11/7/2007, Arizona
Service: 7/19/2008, Cortez, Colorado
Interment: 7/18/2008 10:00:00 AM, Grand Valley Cemetery

Dollie Tangreen, beloved mother and grandmother, passed away on November 7, 2007 in Tucson, Arizona.
Dollie was born to Henry "Roy" and Madge Miller on October 20, 1936 in Monticello, Utah. She was preceded in death by her father, her mother, and her husband of almost 48 years, Andrew Tangreen.
She is survived by her four children, Gene, Kenny (Cheryl), Teresa (David) Partee, and Annisa; eight grandchildren, Josh (Amanda) Johnson, Brandon and Jared Tangreen, Kelly (Cody) Wild, Matt (Michelle) Huff, and Stephanie, Krystalynn and Ryan Polm; two great grandchildren Ryshon Huff and Casey Johnson; one brother, six sisters and numerous nieces and nephews. She was loved dearly and will be missed by all.
A private interment will take place July 18, 2008, with a celebration of her life to be held in Cortez, Colorado Saturday, July 19, 2008. In lieu of flowers, family requests donations be made to the Alzheimer's Association, 225 N. Michigan Ave., Fl. 17, Chicago, Ill. 60601-7633 in memory of Dollie.
Photo Gallery - Click a Picture For Enlarged Slide Show


Printable Page Add Picture Add Tribute/Condolence
PLEASE NOTE: Pictures and Tributes will be reviewed before being posted. We will post them ASAP, we appreciate your patience. PLEASE DON'T RESUBMIT.
Mary Mays
b: 3/5/1939
d: 9/22/2020
Service: Pending


OraLynn Means
b: 7/13/1936
d: 9/21/2020
Service: 09/28/2020, 11:00 am at The LDS Church on 400 North


Guy Thomas
b: 1/10/1950
d: 9/18/2020
Service: Private


Werner Wucherer
b: 1/20/1934
d: 9/10/2020
Service: Private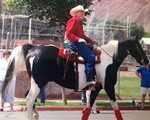 Rodney Dalton
b: 1/18/1934
d: 9/1/2020
Service: 09/08/2020, 10:00 am Grand Valley Cemetery

They Live On
Those we love remain with us
For love itself lives on;
Cherished memories never fade
Because one loved is gone.
Those we love can never be
More than a thought apart;
For as long as there's a memory,
They live on within our heart.