Douglas Ray Bailey

Born: 12/10/1941, Salt Lake City, Utah
Death: 8/9/2014, Moab, Utah
Service: 08/19/2014, 6:30 pm, Potluck at Swanney Park


Douglas Ray Bailey, born Dec. 10, 1941, passed peacefully in his home on Saturday, Aug. 9, 2014. Doug was a tough-spirited man, loyal of heart, and deep down, a gentle soul. On Saturday evening, he was finally reunited on the other side with two of his beloved children: Mary Elaina, whose light left his life in 1980, and Douglas Ray Jr., who passed unexpectedly in 2000. He is also predeceased by his wife, Cindy, and an older brother, Bill Bailey.

Doug is survived by his daughter, Earlene Bailey, and her four children; his siblings, Lynette Larson and Rex Larson; and many close friends of years long past, and years recent.

Doug will be greatly missed, for his wonderful wit, his ability to always understand and empathize, his generosity, and his deep, compassionate heart.

Special heartfelt gratitude goes out to those people who have helped care for and support Doug during his last years, namely Paul "Abe" Hess, Brittany Tattersall, and the other fantastic nurses on staff. Doug also leaves behind his best friend of the last 10 years, Christa Couch, and her daughter Lily, who both managed to lighten and brighten his final years.

Doug has requested a cremation with no official services, but there will be an unofficial potluck style memorial gathering held at Swanny City Park, 6:30 p.m. on Tuesday, Aug. 19. All are welcome to come help us remember Doug.

Tributes:

Just a correction to Douglas Ray Bailey's obit. He was NOT born in Salt Lake City--but in Standardville, Carbon county, Utah.
He's missed. My only brother-in-law.
- Lurell Bailey

Printable Page Add Picture Add Tribute/Condolence

PLEASE NOTE: Pictures and Tributes will be reviewed before being posted. We will post them ASAP, we appreciate your patience. PLEASE DON'T RESUBMIT.
Mary Mays
b: 3/5/1939
d: 9/22/2020
Service: Pending


OraLynn Means
b: 7/13/1936
d: 9/21/2020
Service: 09/28/2020, 11:00 am at The LDS Church on 400 North


Guy Thomas
b: 1/10/1950
d: 9/18/2020
Service: Private


Werner Wucherer
b: 1/20/1934
d: 9/10/2020
Service: Private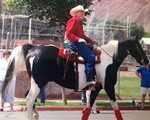 Rodney Dalton
b: 1/18/1934
d: 9/1/2020
Service: 09/08/2020, 10:00 am Grand Valley Cemetery

They Live On
Those we love remain with us
For love itself lives on;
Cherished memories never fade
Because one loved is gone.
Those we love can never be
More than a thought apart;
For as long as there's a memory,
They live on within our heart.