Rhea J Cleaveland
Born: 3/5/1957, Moab, Utah
Death: 9/14/2008, Moab, Utah
Service: 09/19/2008, 11:00 am, Spanish Valley Mortuary
Interment: 09/19/2008, 12:30 pm, , Sunset Memorial Gardens
Rhea June Cleaveland, 51, passed away on September 14th, 2008 in Moab, Utah after battling long-term illness.
Rhea was born at Allen Memorial Hospital in Moab on March 5, 1957 to Harry and June Sly Cleaveland. Despite having resided in Nevada, Kansas, New Mexico, and Arizona, Moab was always her home. Rhea was known for her poetry and her artwork, but loved for her sharp tongue and thoughtful heart.
Rhea was preceded in death by her mother June, her brother David and her beloved friend Ken Cowley.
Rhea will be dearly missed by her grandson Connor Bryant, her children Chrystal June, Dustin Bryant, and Zachery Ryan, and their father BJ Washburn; a sister Tracey; brothers H.R., Terry, and Danny; father Harry; her nieces and her many long time friends.
Funeral Services will be held Friday September 19, 2008 at 11:00 am at Spanish Valley Mortuary, 386 North 100 West. A viewing will be held Thursday September 18, 2008 from 6:30 to 8:00 pm at the mortuary.
A mountain blossom No fences in her view. A blossom has her freedom To bathe in morning dew. by Rhea June Cleaveland
Photo Gallery - Click a Picture For Enlarged Slide Show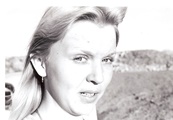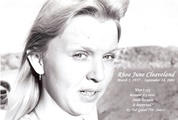 Printable Page Add Picture Add Tribute/Condolence Funeral Program
PLEASE NOTE: Pictures and Tributes will be reviewed before being posted. We will post them ASAP, we appreciate your patience. PLEASE DON'T RESUBMIT.
Barbara Brady
b: 5/28/1943
d: 7/4/2020
Service: 07/11/2020, 10:00 am
Spanish Trail Arena Pavilion
Shirley Shelton
b: 9/17/1934
d: 7/4/2020
Service: Pending
Cesar Vega
b: 6/8/1975
d: 7/2/2020
Service: 07/11/2020, 11:00 am
Moab LDS 400 North Chapel
Milo Randall
b: 3/21/1938
d: 6/29/2020
Service: 07/06/2020, 11:00 am
Spanish Valley Mortuary
Stephanie Zimmerman
b: 7/11/1981
d: 6/15/2020
Service: 06/21/2020, 2:00pm
Lions Park
Barbara Gerety
b: 4/28/1949
d: 6/12/2020
Service: Private
Narshel Day
b: 8/3/1953
d: 6/8/2020
Service: 06/13/2020, 2:00 pm
Moab First Baptist Church
Martin Rogers
b: 5/7/1970
d: 6/7/2020
Service: 06/13/2020, 12:00 noon
Mountain View Cemetery Eastland, UT
They Live On
Those we love remain with us
For love itself lives on;
Cherished memories never fade
Because one loved is gone.
Those we love can never be
More than a thought apart;
For as long as there's a memory,
They live on within our heart.