Susan L Parker

Born: 11/20/1956, Fort Collins, Colorado
Death: 9/28/2014, Rural Grand County, Utah
Service: Pending


Susan Lynn Parker, 57, of Palisade, Colorado died September 28, 2014 in a jeeping accident crossing the Bitter Creek wash in Utah.

Sue was a potter and owner Parker Pottery. A memorial service will be held at a later date in Palisades, Colorado.

Sue is survived by her mother Beth (Dick) Mold of Medford, OR; her brother Brad Carper of Sacramento, CA; nieces and nephew Camilla Carper, Kelly Ingram and Jason Miller; and grandnephews Alex, John and Jacob Miller.

Printable Page Add Picture Add Tribute/Condolence

PLEASE NOTE: Pictures and Tributes will be reviewed before being posted. We will post them ASAP, we appreciate your patience. PLEASE DON'T RESUBMIT.
Mary Mays
b: 3/5/1939
d: 9/22/2020
Service: Pending


OraLynn Means
b: 7/13/1936
d: 9/21/2020
Service: 09/28/2020, 11:00 am at The LDS Church on 400 North


Guy Thomas
b: 1/10/1950
d: 9/18/2020
Service: Private


Werner Wucherer
b: 1/20/1934
d: 9/10/2020
Service: Private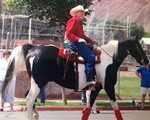 Rodney Dalton
b: 1/18/1934
d: 9/1/2020
Service: 09/08/2020, 10:00 am Grand Valley Cemetery

They Live On
Those we love remain with us
For love itself lives on;
Cherished memories never fade
Because one loved is gone.
Those we love can never be
More than a thought apart;
For as long as there's a memory,
They live on within our heart.