Judith L Moore
Born: 12/14/1945, Columbus, Ohio
Death: 11/25/2008, Moab, Utah
Service: Pending

Judith L. Moore, 62, passed away November 25, 2008 at Allen Memorial Hospital in Moab, UT.
Judy was born December 14, 1945 in Columbus, Ohio to William and Juanita Turner Smith. She grew up in La Harbra, CA. On March 24, 1962 she married Norman Moore in Las Vegas, NV. They moved to Moab where she worked in the tourist industry in customer service until she got ill.
Judy is survived by her husband Norman of Moab; 2 daughters Laralyn Lamont of Idaho Falls, Idaho, Malissa Braden of Oskaloosa, Iowa; a son Richard Shaffer of Redmond, WA; 6 grandchildren and 1 great-grandchild.
At Judy's request cremation has taken place and a private family service will be held at a later date.
Printable Page Add Picture Add Tribute/Condolence
PLEASE NOTE: Pictures and Tributes will be reviewed before being posted. We will post them ASAP, we appreciate your patience. PLEASE DON'T RESUBMIT.
Mary Mays
b: 3/5/1939
d: 9/22/2020
Service: Pending


OraLynn Means
b: 7/13/1936
d: 9/21/2020
Service: 09/28/2020, 11:00 am at The LDS Church on 400 North


Guy Thomas
b: 1/10/1950
d: 9/18/2020
Service: Private


Werner Wucherer
b: 1/20/1934
d: 9/10/2020
Service: Private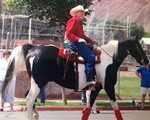 Rodney Dalton
b: 1/18/1934
d: 9/1/2020
Service: 09/08/2020, 10:00 am Grand Valley Cemetery

They Live On
Those we love remain with us
For love itself lives on;
Cherished memories never fade
Because one loved is gone.
Those we love can never be
More than a thought apart;
For as long as there's a memory,
They live on within our heart.